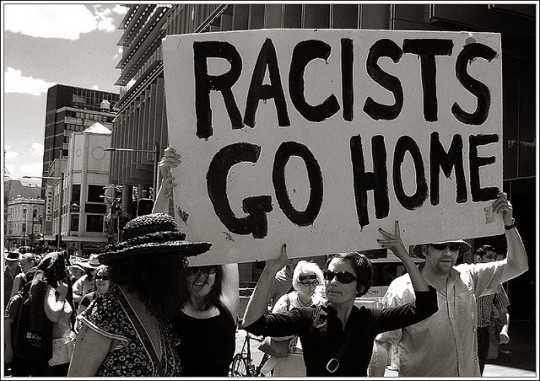 Australia is a racist country. Some Australians are racist. Not many but enough to make life regularly unpleasant for people, for example, from Asia.
I live in a suburb of a city called Wollongong. There are racists in Wollongong. I feel that there are many racists in Wollongong and the surrounding Illawarra region. More than 1 in 10. From Stanwell Park in the north to Kiama in the south. From Dapto to North Wollongong. From Balgownie to Windang.
Some even have the Australian flag perched in their front yard, propped up on their car or emblazoned on the back of their truck. That is not patriotism. It is jingoism. The Australian flag is code for "if you are not white and not born here in Australia then you are not welcome". The code was written by Pauline Hanson and approved by John Howard.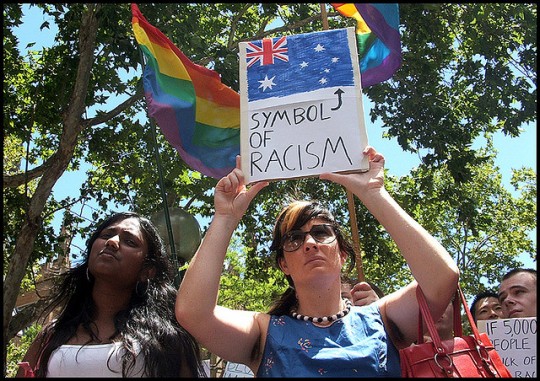 Racists are easy to find in the Illawarra.
How easy? Simply visit Wollongong train station and you are guaranteed to encounter a racist in under an hour. Probably in a matter of minutes. Catch a train. There would be a racist or two in each carriage. Probably more.
Walk down the Wollongong City Mall. Racists there. Catch the free Wollongong City bus. Racists on the bus. Catch any bus in Wollongong actually. Racists on the bus.
How do I know? My wife has been subject to racist abuse. The first occasion was during a house inspection many years ago. The owner asked if we could stop the inspection as they did not wish to deal with people that were not white and Australian. I still remember the full name and address of the individual. I wrote a letter to the editor of a local newspaper about the episode. It was published and many of the replies supported the owner of the house saying it was their right to decide who they wanted to deal with regardless of their views. I still shake my head in disbelief.
The second time my wife was subject to abuse was in a fast-food outlet when a group of teenagers called my wife and another Asian family "gooks". There have been other occasions.
Yet, it is our home-stay students, enrolled at the University of Wollongong, that have suffered much more. One of our Japanese home-stay students was hit and pushed to the ground by two locals outside Wollongong hospital. No-one came to her aid. Not long after that some secondary school students waiting at a bus stop  in Wollongong levelled racist abuse at her and one student spat at her. They were wearing light green school shirts complete with the school emblem.
Some of our Chinese home-stay students have been abused in the street as well. When they are shopping, walking home from the University, catching the bus, catching the train, being served in a shop.
Australia is a racist country. Not totally, but enough to give it an abysmal reputation, particularly in our region of the world. I wish the government would do more to deal with this issue. Programmes need to be funded at all level of schooling and education. There needs to be more advertising. Everywhere: TV, Radio, Internet, Newspapers, Magazines, Billboards, Buses, Trains, Taxis, Bus-stops. Everywhere. The message must be loud and clear. Racism is not okay. Racism is wrong.
Education works. Television shows like Dumb, Drunk and Racist as well as Go Back To Where You Came From reveal that education or in your face enlightenment can turn people around.
Why am I writing this today? Once again, our home-stay student arrives home and shares with us yet another instance of racist abuse against Asian students by Australians in the streets of Wollongong.
Further reading and/or viewing:
Chinese students brace for racism
University of Western Sydney report on racism ~ SBS news article
Racism very much alive in Australia, says Dr Charles Teo
Is Australia a racist or tolerant society?
Are Australians racist?
Australia a land of racists: Survey finds many anti-Muslim and anti-Semitic
Blog: Discrimination in acting
Apprentice hopeful Sabrina Houssami says Australia 'racist'
Dumb, Drunk and Racist
Go Back To Where You Came From
Racism in Australia
Andrew Quilty – Photographer – Cronulla Riots
Google Image Search – Cronulla Riots
Acknowledgement. Both photographs taken by Pigeonpoo. http://www.flickr.com/photos/pigeonpoo/. Some rights reserved.