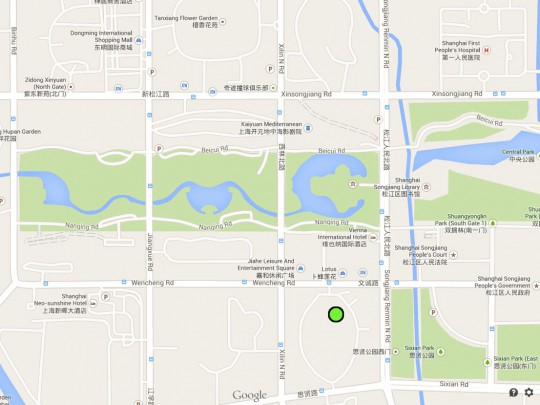 Went for a walk this morning before I began work. I am staying in Songjiian, which is situated west of the city of Shanghai. The green dot on the map marks the spot.
It was quite cold this morning. I packed for milder temperatures however during the last couple of days a cold snap has hit the region. It was much warmer last week. The cherry and peach blossoms have been out in great numbers during the last week.
There are quite a few parks in Songjiang, as the map above indicates, and taking a walk is quite pleasant although I must admit that I miss my bicycle. There are dedicated bike lanes in Songjiang, separated by well constructed median strips which are neatly planted with manicured shrubs. Next time I stay here I will borrow a bicycle.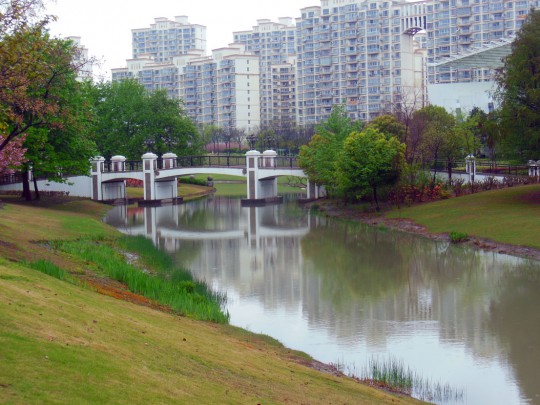 A couple of people said hello to me during my walk, giving me the chance to practise my Chinese. I can survive however I need to brush up. I also regret not bringing a couple of texts with me so I can test myself in my spare time. I can recognise more Chinese characters this time around. It is neat being able to interpret characters here and there, especially on the local metro lines.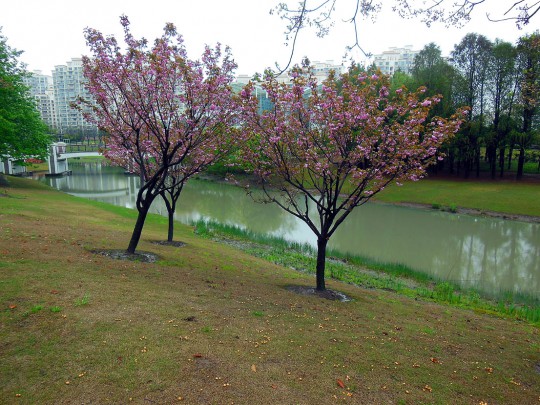 It is good being here. I can concentrate on my research and preparation for a number of workshops that are coming up  in Singapore, Surabaya (Indonesia) and Newcastle during May. I am staying in a 3 storey home and I have an entire floor to myself with two bedrooms, a bathroom and a study. I shall be in China for about 4 weeks. I have also had the chance to tinker with this web site. A pleasure for me.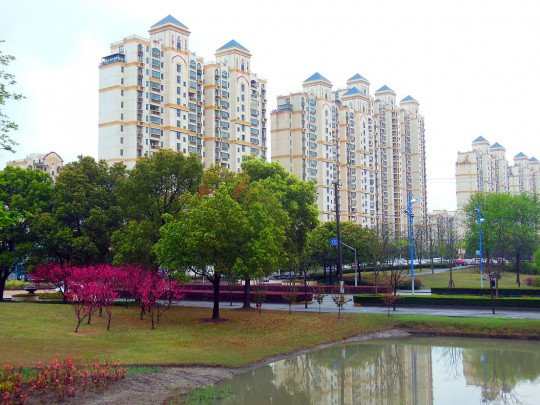 I had a hot brew at the end of my walk, a chance to practise Chinese once more. I then dropped by a small store that sells imported Taiwanese products. I picked up some bottles of drink as well as two small cans of Taiwan Beer which I may imbibe later this evening. Why not? I like Taiwan Beer. It is an acquired taste but there is nothing quite like downing a Taiwan Beer or two on a hot, humid evening, sitting by the side of the road in Banqiao, Taipei in Taiwan, eating a meal together with friends. I might post about that later.