Ants and other tiny creatures pose an interesting dilemma for the local inhabitants. Ants are everywhere, even on the internet. The tropical nature of this island country would account for this phenomenom.
The chaps in the photograph below turned up overnight. So much for my Uncle Toby's Oats.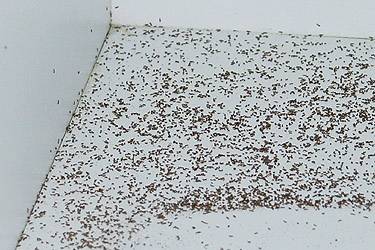 One should seal all food containers carefully. Cereal needs to be transferred to plastic containers. Cardboard containers do not provide enough protection. Even new cardboard containers will be soon invaded by the marauding beasties. It reminds me of an episode of the Outer Limits. You know you are losing the battle when you find them inside your toothpaste tube or, even worse, in your underwear. [See related story regarding the washing machine.]
All eating utensils and crockery must be cleaned immediaitely otherwise the ants w ill come. It is wise never to eat in bed or the study. Otherwise the ants will find another paradise for discovering even the tiniest crumbs.
---