Excitement reigned in Singapore as Evan Barnes flew inon QANTAS to visit his old mates John and Shao Ping.
Evan stayed at the Hotel Bencoolen and met up with John at the office in South Bridge Road for lunch.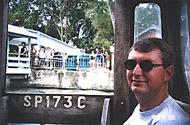 Young Evan on the Bum-Boat
Evan, John, TC, Ben and Leon went to lunch in a nearby hawker centre located at the end of Trengganu Street in the Chinatown Complex. They feasted on a variety of dishes including a very tasty plate of fried rice.
That evening Evan, John and Shao Ping had dinner at the Madal Food Centre in Bukit Batok. They all feasted on dishes served up by the friendly staff at the Bonanza Seafood Garden.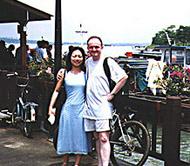 Shao Ping and John on the jetty at Pulau Ubin
The next day Evan, John and Shao Ping went to Changi Village and then hopped on a bum-boat to the island of Pulau Ubin.
They cycled their way around the island and stopped at various points for a refreshing drink of water.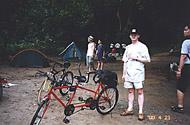 John takes a breather after cycling across the island with Shao Ping on the back. John is not wearing long white socks. They are his beautiful unadorned legs.
The island is characterised by traditional kampong style houses and a rural atmosphere.
A mighty storm blew up and the journey back to the jetty at Changi Village was quite thrilling as the bum-boat tossed to and fro in the sea off Singapore. No-one became sea-sick thankfully.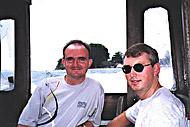 John and Evan pose on the Bum-Boat
Back at Changi Village Joh n and Evan feasted on the famous Nasi Lemak dish. Shao Ping scoffed down some vegetarian food cooked Muslim style. She also sipped on some Sour Sop juice. John had a Coke.
That night the trio went for dinner at Clarke Quay where satay sticks were the order of the day. Then it was off to Boat Quay to have a few drinks, listen to the band at the Culture Club and observe the Sarong Party Girls cruise up and down in search of a desirable Ang Mo.
Next day we went shopping in Bugis Junction, had dinner at a Thai Restaurant located upstairs in Raffles City and slummed it in the Billiards Bar at the Raffles Hotel. Wegave the Long Bar a miss this time.
The Singapore Sling is best left for the odd rare occasion. I drank a couple of Tiger Beers. Evan, Shao Ping and Irene sipped on a variety of cocktails.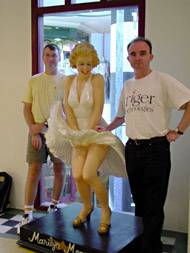 John and Evan pose predictably alongside a tawdry plastic statue of Marilyn Monroe.
We were joined by our friend Irene, a denizen of the island and an authority on suitable entertainment venues around the city.
Eating hazelnut coated fried bananas in Bugis. That's a chilled mocha coffee in the foreground. Good, eh? They remind one a little of Roy and H.G. after a blue joke. Maybe it was the brown bananas and the two cherries.
John also took Evan on a cross island journey via the MRT and LRT. Stops included Choa Chu Kang, Sembawang and Ang Mo Kio.
Choa Chu Kang is the home of the LRT (Light Rail Transport). Sembawang has a brilliant DVD/VCD outlet and Ang Mo Kio has some great food joints. Ang Mo Kio means 'white man's bridge' I believe.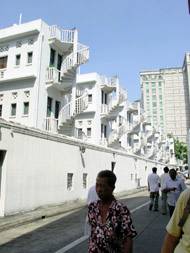 An interesting bit of architecture near Bugis. An old passer-by called me an 'idiot' in Fukienese as I took the photo.
Evan flew home on the Sunday night about 8:00PM. It was a big weekend to say the least. Well, Evan will be back in town again soon so stay tuned for the further adventures of Evan and the gang as they cause mayhem and mischief in the Lion City.