There was an unexpected treat for John and Shao Ping when they boarded the train at Bugis MRT station one evening after work.
There it was... a new rail vehicle. Everything was gleaming and had that new car smell... you know the one I mean.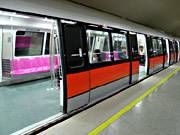 The livery features a strong black and red look. I heard the the designer was in fact an old boy from Edmund Rice College, Wollongong. Each carriage has colour coded seats. The vehicles are quieter and more aerodynamic than the earlier models. They run very smoothly.
The pre-recorded voices on the public address system are both female and male. Female for normal announcements and male for those crowding the closing doors.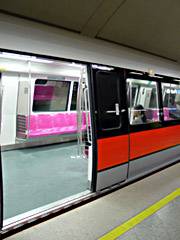 It was quite a thrill to ride on the new vehicles. The photographs were taken at Pasir Ris MRT station. The station is always this spotless and clean.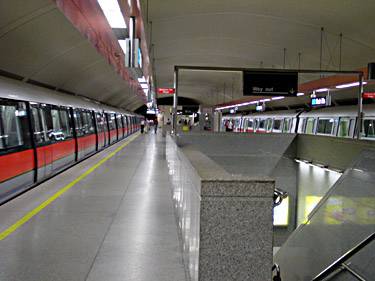 Both the old and the new can be seen in this shot taken at Pasir Ris Station. In fact this would be one of the rare occasions a train spotter would enjoy themselves in Singapore. I think there are only four different types of stock on Singapore MRT lines: conventional MRT trains, new MRT trains, track testing MRT trains and the track repair MRT trains.