New Era Dawns in Pasir Ris
This day marks a new era in the history of Pasir Ris. On this day John and Shao Ping took up residence in a Housing Development Board Flat located on the shores of the Sungei Tampines.
The flat is located on the tenth floor and overlooks the Pasir Ris Town Park and the fishing pond. Nearby is the town centre and the MRT. The picturesque Sungei Tampines flows past the building. See the gallery below.
John and Shao Ping chose this site to live because of its proximity to the Pasir Ris Nature Park and associated recreation facilities. Changi Village is not far away and from there they can take a bum-boat to Pulau Ubin.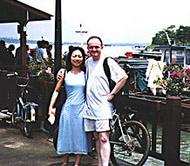 "We like this area very much..." said Shao Ping. "It allows us to go cycling, roller-blading and kite flying on a Sunday. It is quite a peaceful area. We may even go swimming."
John added that Elias Road, located just near the park, reminded them of their home in Figtree, New South Wales, Australia. "There are some nice homes there. Of course, we could never afford a home in Elias Road itself. The house values are just outside our price range."
---
Scenes around Pasir Ris