Shao Ping, Shao Chi, Theresa, Evan and John went out for the evening in Taipei on the Saturday night.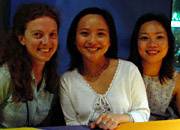 Theresa, Shao Chi and Shao Ping glow.
They shared dinner at a great restaurant called the Blue Museum. The food was Chinese but the decor was Mediterranean.
The food was excellent. Shao Chi wisely chose this establishment. The Blue Museum is located in Sze Wei Road in Taipei.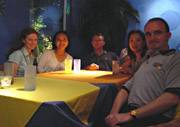 Theresa, Shao Chi, Evan, Shao Ping and John pose for the camera after their meal.
They then took two taxis to Chung Hsiao East Road where they took the MRT to Shih Lin via Taipei Central Station.
The city was alive with activity as people went shopping, clubbing, drinking and eating.
The streets of Taipei are awash with scooters, thousands of motor scooters. They are everywhere!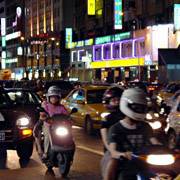 The ubiquitous scooters on Chung Hsiao East Road.
It is interesting to see entire families crammed on to a single scooter. It is even more interesting to observe ladies wearing mini-skirts on the scooters.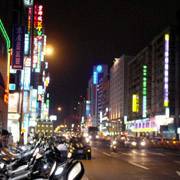 Chung Hsiao East Road.
In this part of the city all the trendy and affluent citizens of Taipei go shopping and to be seen. It is primarily an area of the city where young people hang out.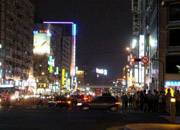 Chung Hsiao East Road.
John was very surprised to see people queuing prior to boarding the MRT carriages.
There were clearly marked lines indicating where to queue.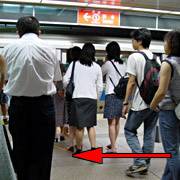 Sensible commuters queue in Taipei. The yellow queue markers are indicated.
It would be wise for commuters in other countries to adopt this practise instead of barging on to the train like a herd of cattle.
They took the MRT to Chien Chiao and began an exploration of the amazing Shih Lin Night Markets.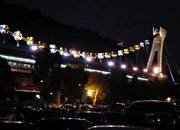 Chien Chiao MRT Station.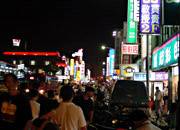 They went from stall to stall checking out the wares on sale and the talent that walked by them.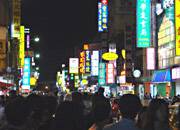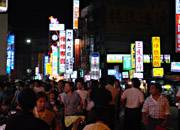 They purchased some gifts and souveniers. Theresa bought a barbecued corn cob with a special sauce.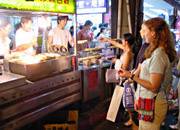 Theresa waits while her corn cob is barbecued.