Well, it was time to pack the bags and head for Taiwan. Early on Friday morning John and Shao Ping packed their things and prepared for their flight to Taiwan. What surprises would await them both?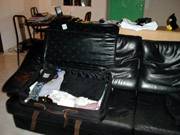 A suitcase gradually fills.
They took a taxi to Changi International Airport, checked in and waited patiently for their flight.
They also purchased a couple of watches which include holograms as part of the watch face.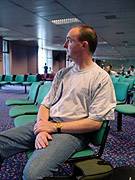 John ponders.
While waiting they amused themselves by taking silly photographs, like the one above and that below, at the boarding gate.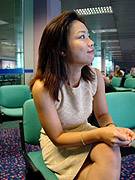 Shao Ping reflects.
They flew with Singapore Airlines. The jet they flew on is illustrated below. John was not sure which type of aircraft they flew on that day.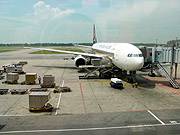 Singapore Airlines Flight SQ872.
The flight was quite empty. There are three scheduled flights to Taipei each day. There were plenty of seats for the passengers to stretch out on. In fact John and Shao Ping even speculated about the possibility of whether or not crew outnumbered passengers. This was not the case.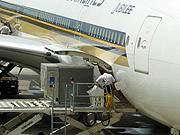 Singapore Airlines Flight SQ872 being packed for the flight.
The plane taxied out and they were on their way to Taipei.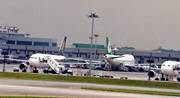 On board John had a special surprise when, on switching to the cartoon channel, he discovered an old episode of Ren and Stimpy was being played! It was the episode "Marooned". Ren and Stimpy freaked out on this psychedelic planet. A classic cartoon!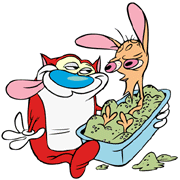 Ren takes a bath in Stimpy's kitty litter.
"Commander Ren Hoek and Cadet Stimpy's rocket streaked out of control in this episode and they were marooned on Wazzu, a freaky uncharted world, where they attempted to find food and also to avoid the terrifying Braniac men who have a habit of exchanging food in a very gross manner."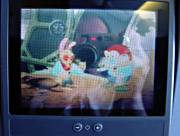 Ren and Stimpy feature on the Singapore Airlines Kris Entertainment Centre.
The flight was uneventful. Everything went smoothly and there was plenty of room to stretch out.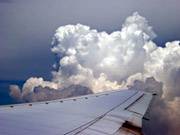 A nice cumulus cloud formation above Singapore.
Shao Ping watched American Beauty whilst John flicked between The Green Mile and Bicentennial Man. After four or so hours the flight reached Taipei. It was about 31 degrees Celsius and there were gusty westerly winds blowing.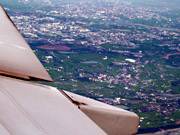 Approaching Taiwan International Airport.
I borrowed the Ren and Stimpy image from the Nickolodeon web site