John and Shao Ping have had the chance to go out and meet new people during the last few months in Singapore.
Not long ago they met up with Miss Wang at the Apollo Hotel on Havelock Road. Miss Wang workswith Shao Ping's mum in a child care centre for handicapped children in Taipei.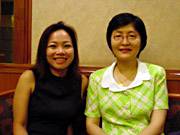 Shao Ping and Miss Wang
Miss Wang was visiting Singapore during a vacation. Shao Ping, Miss Wang and John had a chat for a while and then it was time to say goodbye.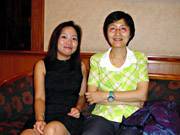 Shao Ping and Miss Wang
---
Shao Ping and John met up with Shawn and his friend Jim one evening for a drink and a snack.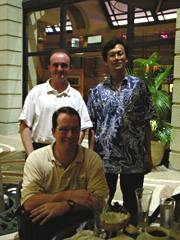 John, Jim and Shawn (l to r)
Shawn, Jim and John were basically discussing the potential of web based delivery of instructional materials.
Shawn and Jim are both very interesting people. Shawn, originally from Hawaii, is a researcher and lecturer in education. He is also a keen advocate for the environment. Jim is a researcher in the rainforest arena and is an employee of the Smithsonian Institute.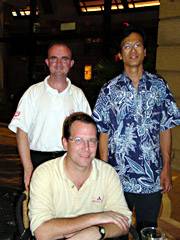 John, Jim and Shawn (l to r)
---
Recently John and Shao Ping had a surprising visitor from Japan. John had receieved an email from a visitor to his 'Sandii and the Sunsetz' web site.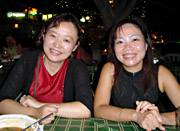 Yeng Su and Shao Ping at dinner
The email was from Yang Su in Japan and she was keen to meet myself and Shao Ping during a visit to the region she was planning. All the arrangements were made via email. Yang Su's emails are quoted below in order to reveal the excitement of her discovery of the Sandii web site.
"Hello! I'm looked sandii's web sight. I'm take a picutre,about 6years ago. ( official pohto) By the way, Are you leave in SG? I'll going to SG this weekend !!! !!! Anyway,If you OK remail please! by yang su from TOKYO"
"Hello John ! How are you. Thank you ! I'm not guess there sandii's bigestfun in SG! So, very excite now!!!! This time to SG, just sightseeing. But sandii's friend musiician in JB,if i will to visit. And, If will take a tiket to Vietnam and Indoneshia. In Indoneshia there my friend. Well, Do you know,somewhere travel agency? (inexpensive is good!) If you know introduce , please. This weekend arrival at midnight. Now, I'm reserve a Hotel. I'll stay New 7th stray (near Bugis st.) or Keong Saik Hotel(Chain a town). But just 1 day, I want change ,if can find cheep hotel or gest house on sunday. Maybe. . Anyway, Could you call you to SG? Thank you, bye,yang su( yoko fujiwara)"
We all met outsisde Starbucks at the City Hall MRT. We then proceeeded to a Thai restaurant at Boat Quay.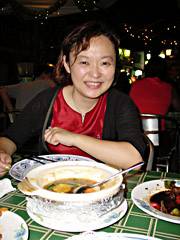 Yeng Su at dinner
The meal was excellent and we all had a great evening swapping stories about Sandii and the Sunsetz, David Bowie, Iggy Pop, Yellow Magic Orchestra, Ryuichi Sakamoto and other musicians.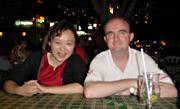 Yeng Su and John at dinner
After dinner we went for a walk along Boat Quay and stopped at the Coffee Bean shop. We had a drink and then we escorted Yang Su back to her hotel in Bencoolen Street.
---