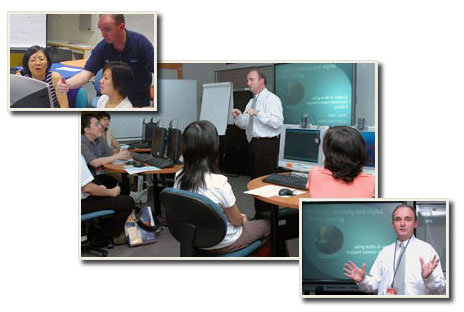 John Larkin is an educator with an international profile due to his practical application of educational technologies both in Australia and overseas during the past two decades. He has a diverse experience in the development and usage of educational technologies in primary, secondary, tertiary and corporate educational fields.  John has created both web-based and multimedia education projects. His skill set is enriched with a keen eye for design and a practical approach towards instructional technologies.
He has taught part-time at both undergraduate and postgraduate levels in the fields of instructional design, online course development and education multimedia design at the University of Wollongong, NSW and also at the National Institute of Education, Singapore. Prior to his return to Australia John was employed at the Centre for Excellence in Learning and Teaching at Nanyang Technological University.
Education
Master of Education Degree (1993 – 1994) (part-time) Conversion from Graduate Certificate in History Education. Major: Information Technology in Education Faculty of Education, University of Wollongong.
Diploma in Education (1980) History/English Method. Faculty of Education University of Wollongong.
Bachelor of Arts (1977 – 1979) Major: History and English Literature. Faculty of Arts. Minor: Biology, Faculty of Science. Minor: History and Philosophy of Science, Faculty of Arts. University of Wollongong.
Additional non-award tertiary studies also undertaken in Computing Science, Ancient History and Philosophy (University of Wollongong).
Web Presence