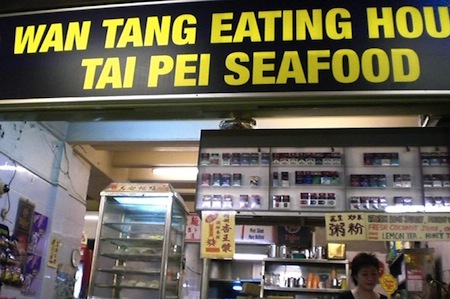 It was the end of an era for me tonight. All week I had been looking forward to my visit to the Wan Tang Eating House in Chinatown, here in Singapore.
This evening I was free so I took the 199 bus to Boon Lay MRT from the campus at Nanyang Technological University and jumped on the train, heading east towards the city centre of Singapore. I alighted at Outram Park MRT and began my walk towards Trengannu Street, Chinatown.
I was thinking of the meal I would eat while I sat on the train and also as I was walking through the back streets and housing blocks of Chinatown. Steamed rice, hot plate beef, omelette with seafood and onion. A glass of Tiger Beer. The usual. I have been a regular at the Wan Tang Eating House since 1999. I got to know the family that ran the restaurant. I have watched their kids grow up and even the passing of some of their pets.
Each time I turned up at the restaurant they knew exactly what I would like to eat and what I would like to drink. It is a feeling that is hard to describe. For me, the atmosphere and the camaraderie of the Wan Tang Eating House was Singapore. I felt at home at the Wan Tang Eating House. I simply felt serene eating and sitting there. Watching the world go by. I felt in control. I experienced clarity. I connected with the people and the environment. I was at home. Home.
As I walked down Trengannu Street tonight I sensed from a distance that something was not right. The signage was different and the lighting had changed. As I drew closer I knew what had happened. The Wan Tang Eating House was no longer. It had disappeared and the space it once occupied had been swallowed up by the gargantuan restaurant next door that caters to hoardes of tourists.
The Wan Tang Eating House was where the locals grabbed some food. Adventurous tourists would stop by for a meal and a drink. It was mainly patronised by regulars and locals. I once worked around the corner from this place and as a result it was not unusual for me to eat breakfast there as well.
I felt lost, saddened and quite empty tonight upon my discovery. I spoke to the owner of the shop next door and he could not tell me where the family had moved to since closing down the business. If I could have found out I would have made my way to their new place. I did not know where to go. I was quite dispirited and lost. Like a part of me had been torn away. I will make more inquiries this weekend.
Some of the first digital photographs I had ever taken in Singapore were at the original Wan Tang Eating House ~ Chinatown Under The Spotlight. I have gathered together photographs taken at the restaurant from a variety of old blog posts and I present them below. I met interesting people there.
In a dispirited frame of mind I decided to back track and to eat at the kopitiam opposite Block 254 in Bukit Batok East Avenue 4. Shao Ping and I used to eat there frequently during the time we lived in Bukit Batok. I took the 173 bus from Bukit Batok MRT to Block 254 and crossed the road to the kopitiam.
I ordered the black pepper beef, some rice and not long after that, Annie, who had served Shao Ping and I so many times before caught up with me and we chatted about earlier times. She brought me a bottle of Tiger Beer, a glass and it was on the house. The food was great and the beer refreshing however the sadness and loss that I felt with the closure of the Wan Tang Eating house could not be easily abated.
This kopitiam in Bukit Batok had changed much. The food stalls with their titles of Chinese and curiously broken English had all since long gone to be replaced by stalls with titles only in Chinese and all seemingly run by fresh arrivals from the PRC. The local ambience and the local flavour had gone. I did not feel at home.
This feeling of loss is quite strong. When I discovered some years back upon my return to Australia that the family home where I had been born was no longer I was not that upset. This evening's experience is much more intense.
I think I have an insight into how Singaporeans must feel as the places they know well are torn down and swallowed up in the name of progress. Their kampongs, favourite eating places, schools and homes. I have experienced it once, tonight. My Singaporean friends have experienced it many times. Perhaps that explains their stoicism and my despair.