You have an iPad and there are times when you simply want to transfer a bunch of files from the iPad to your desktop computer or laptop in a hurry. Perhaps you wish to display your iPad on the big screen but not be constrained by the VGA adaptor and the cable. Or, you wish to play a documentary or a video that is not compatible with your iPad. Well, fret no longer, here are a variety of solutions for you.
The following applications are not apps that can be found in the app store. They are desktop computer applications.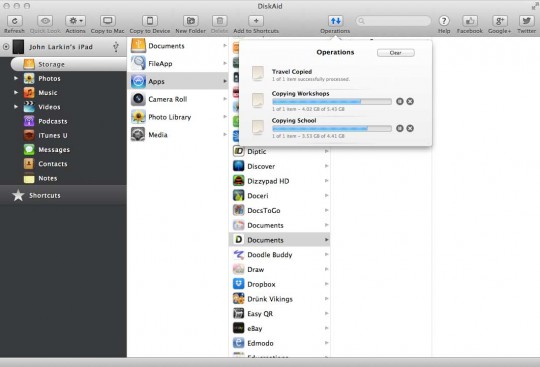 Disk Aid: Multiple file transfers between the iPad and a computer.
Transferring files between your iPad and another computer
The following three desktop applications allow you to transfer files between the iPad and your computer.You can simply drag and drop files to and from the iPad to apps such as GoodReader, Readdle Documents and QuickOffice. The file transfers are uncomplicated and fast. If you are in ahurry and you have not got time to waste there give Disk Aid a try.
Converting DVD and video files to a file format compatible with the iPad
Handbrake allows you to convert DVDs and other video sources, such as AVI files to a format that will work well on the iPad. Simply use the iPad preset when converting or "ripping" your video source. handbrake will produce .m4v files ideal for the iPad and suitable for playback within the Video app or for editing with iMovie and Pinnacle.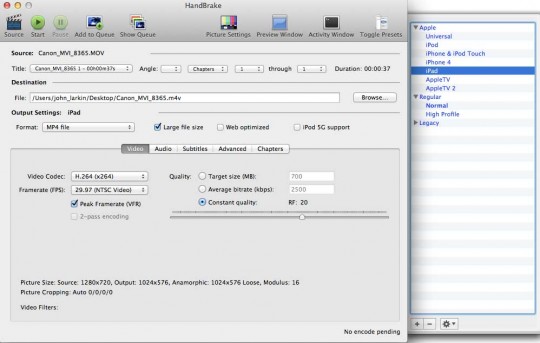 Handbrake: Converting video files for the iPad simplified with the iPad preset
Displaying your iPad screen on another device via AirPlay and a wireless network
The following three applications allow you to share your iPad screen to the screen of a desktop or laptop computer via AirPlay. You could connect to your computer to a projector so that is displays your iPad screen via your computer. This will allow you to be free to walk around the room. The Reflection application (now known as Reflector) allows you to record your actions on the iPad and then save that as a video file. This option may not be available on all operating systems. You can use this method to create "how to" video files for your students and colleagues.
Remember, these applications are not "apps' that can be found in the Apple app store. They are desktop computer applications. Follow the links.