When I eight years of age our family moved home and I had to start at a new primary school. It was Term 3. I remember my first day quite well. I was in 2nd grade and the name of my teacher was Sister Philomena. The classroom was cold and dark with high windows. It was known as the "basement" and it was later converted into toilets.
We sat at these long wooden desks that could sit four students next to each other. I remember I sat next to Ginetto Poscoliero on that very first morning. About three rows back in the centre. School had already started and my sister Mary and I had arrived late. Not an auspicious beginning. Gino had the most amazing lunches. His incredible lunches made my devon and tomato sauce sandwiches on plain white bread look rather pathetic in comparison. Gino's lunches were humongous. Bread rolls with the most exotic fillings! This was all so new to me. A cultural awakening. [See Alan Levine's comment below… That's Gino on the left in the photograph below together with Ernesto, Sammy and Mario. All from that 2nd grade class at a recent reunion. We are getting together again later this year.]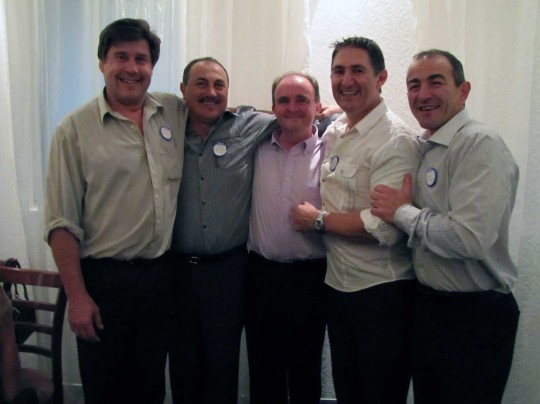 Gino, Ernesto, John, Sammy and Mario. Still together after more than 45 years.
An Australian boy in a Mediterranean sea of manhood!
The way in which mathematics was taught at this school was quite different in comparison to how I had been taught at my previous primary school and from that point on in life I struggled with mathematics. It seemed to be more advanced. I could never seem to stay in touch. My first three years at school had seemingly wired my brain to learn mathematics in a particular way. My new 2nd grade teacher, Sister Philomena, taught it a different way. She seemed to be a tall foreboding woman with impossibly thick eyebrows and deep, dark brown eyes. Her thick dark habit and the huge string of wooden, life-threatening, rosary beads that dangled from her belt bespoke of authority and merciless power. She probably never wanted to be a teacher. She conceivably became a nun to pray and get married to God but the head of the convent probably tossed the poor woman a piece of chalk and said "Teach!"
However, it was not all doom and gloom in this new school for a small sensitive boy. Every member of the class was given a "reader" called Open Road and I thought it was the most fantastic book. Some of the stories have stayed with me all my life. In recent years I have always kept an eye out it for it in second hand book stores and I have also searched for it on the web. To no avail. I mentioned this in passing to my older sister Margaret recently and she replied that she had kept my copy of the book, along with my Kindergarten and 1st grade readers! Excellent! Thanks Margie! Margaret is a kindergarten teacher. I am one of seven children. Six teachers and one librarian.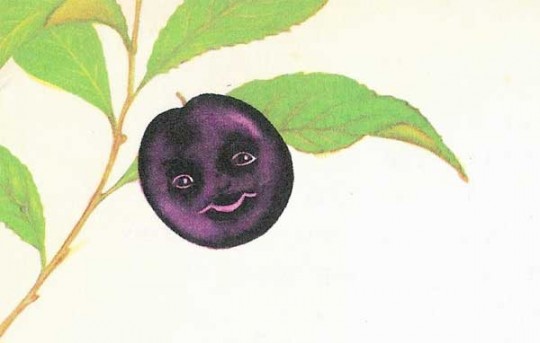 The Rolling Plum contemplating life on the road
One of the stories that always fascinated me was "The Rolling Plum". It is the story of a plum that decides he is going to see the world. The idea of a plum rolling from one place to the next captured my imagination. This plum had balls, per se, and it was determined to leave the tree and head for the road, channeling Jack Kerouac no doubt. I guess that this little roaming plum caught my eye because I had recently moved to a new home just metres from the beach, paddocks, tracks, sand-hills, creeks, coastal rock shelves, a playground and a football field. Freedom! I too could be that rolling plum.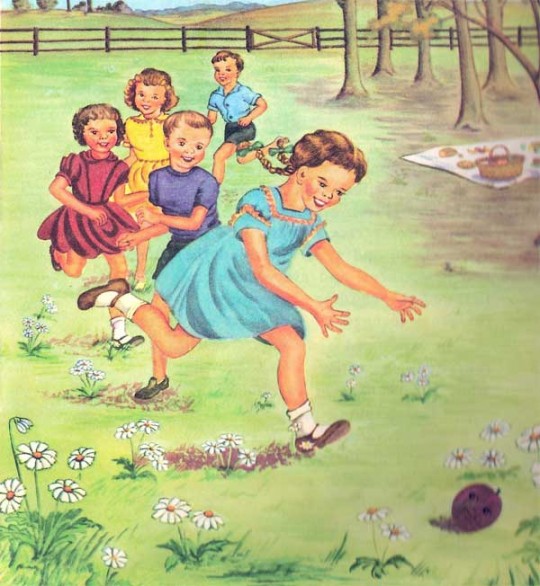 The Rolling Plum evades capture
The Rolling Plum was one weird, little dude. How he managed to roll around like that was a mystery. Yes, this little purple renegade carved a swathe through the meadows as he rolled around the countryside with a grim determination. Thinking about it… this could conceivably be a nightmare for some kids. The plum encountered some dangers along the way however he met them all head on, in a manner of speaking, and carried on regardless, singing his merry little tune…
"I'm a rolling plum
and you can't catch me,
for I'm off to look
at the world you see…"
After his travels far and wide the Rolling Plum eventually found his roots and settled down with a worldview quite unlike that of his fellow plums. You can read his story by exploring the gallery at the foot of this post.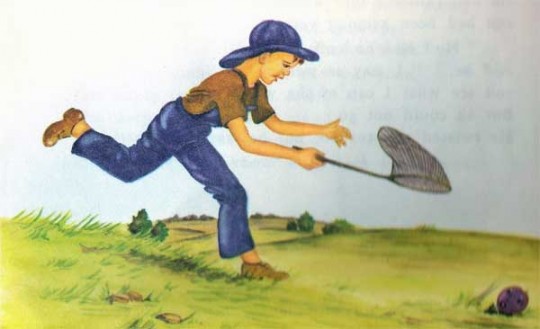 The rolling plum evades capture once more!
Do you remember the Rolling Plum and Open Road? Would love to read your recollections. Please leave a reply below with your own stories! Much appreciated!