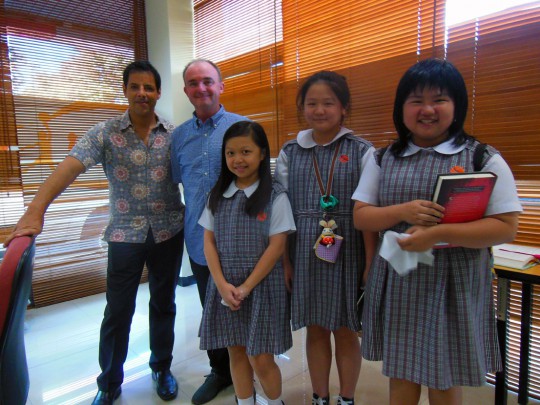 Principal of Singapore National Academy, Peter Araman, and three pupils of the primary school.
I had the good fortune to conduct an iPad in Education workshop at the Singapore National Academy in Surabaya, Indonesia, yesterday. It was easily one of the most memorable education workshops I have ever conducted. Peter Araman, Principal of the academy is an inspirational leader and a wonderful person. He has worked at a number of international schools. He and his staff made me feel most welcome.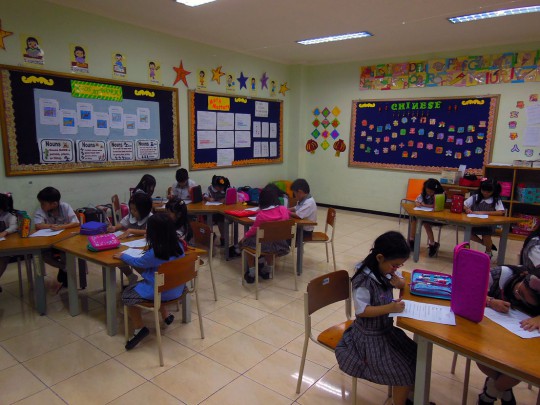 The classroom in which the workshop was conducted, photographed the previous day. 
The students are undertaking a quick test.
I often felt completely overwhelmed by the kindness and generosity of all the teachers and support staff. Peter, his leadership team, and the teachers are all enthusiastic educators, keen to listen to new ideas and to experiment with opportunities to think in a transformational manner when it comes to innovation and inspiration in the classroom.
Myself with some of the wonderful teachers and instructional technology staff
The worksop focused upon making innovative and practical use of the iPad. The key to this lies in discovering unintended uses for both the device and a range of apps. Educators should endeavour to ensure the device is not used within the four walls of a classroom or even within the school itself. The strength of the device lies in its portability and media collection abilities.
The teachers that attended included teachers of Kindergarten, Primary 1 & 2 as well as Chinese Language. We all had a good time and there were plenty of opportunities to share ideas, experiences and demonstrate innovative uses of apps. There was happiness and laughter. The day ended too quickly for me. I could have stayed with the teachers for much longer. They were all excellent. Peter dropped in three times during the workshop. Later we went out for dinner. It was a wonderful evening.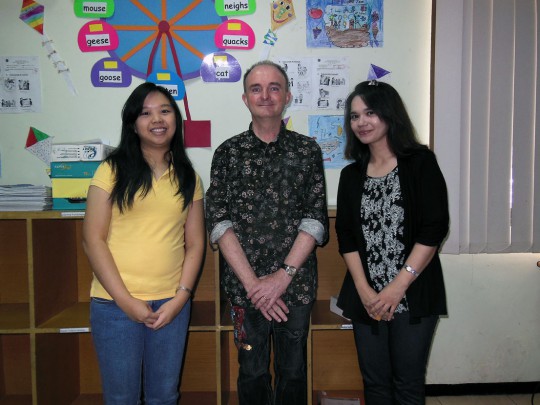 Myself with Ms Fanny and Ms Anita at the workshop
I want to share some of the feedback that I received at the end of the day. I am quite proud of what I achieved and, frankly, I have spent too much time in recent years holding back, so here it is. One participant, Miss Helen, indicated that it was by far the most beneficial and interesting professional development workshop she had ever attended. Miss Ditas indicated that she and one other lady were "too worried to leave to take a pee in case they missed something". Peter, the Principal, reflected with me at dinner that evening that all of the attendees had thoroughly enjoyed the workshop and had found it engaging, informative and most practical. He added that my knowledge and approach had taken professional development and innovative educational technology use to the next level as far as he and his staff were concerned. In a humbling way I must add that many of the participants lined up to take selfies and photographs with me at the end of the day. That was fun!
Peter and his wonderful staff took excellent care of me during my time in Surabaya and my days at the school. They took care of all of my needs and costs. They were selfless and so giving in so many, many ways. I will always treasure my visit to the Singapore National Academy and Surabaya.
Documents for Download
Resources on www.larkin.net.au
Key iPad in Education Resource Sites
Tablet technology in Western Australian Public Schools ~
Edutopia
Evaluating iPad Apps
Kathy Schrock: Critical Evaluation of Mobile Apps
Tony Vincent: Ways to evaluate iPad apps
Education Rubrics
Teacher Planet: Rubrics for teachers
Kathy Schrock's Guide To Everything
Western Australia Department of Education and Training
iPad Apps
Language, Expression and Storytelling
Mathematics
Science
Cross Curriculum
Mindmapping and Concept Mapping
Art and visuals
Video and animation
For Teachers