On Saturday John, Evan and Shao Ping headed to the countryside of Taiwan. They visited Shao Ping's grandfather who lives in Guan Ying in Tao Yuan. Evan had once again cruised in to Asia!
After the visit everyone went out for a wonderful lunch.
John, Evan and Shao Ping were driven to the home by Shao Ping's brother, Shih Peng and his wife Chun Hung.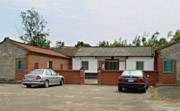 Shao Ping's grandfather lives here.
Shao Ping's grandfather lives with his second wife and his grandaughter. His home is over 100 years old and features low ceilings and an amazing architectural style. The home used to be located in the country but it is now being encroached upon by urban growth and industry.
Shao Ping's grandfather grows watermelons on a couple of patches of land adjacent to the home.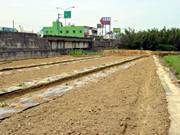 The watermelon patch.
Near the entrance to the home is a couple of old seats where one can sit under the trees, knock back a drinka nd watch the world go by. It was a hot and windy day but we all had a good time.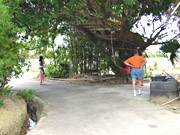 Evan checks out the front of the house.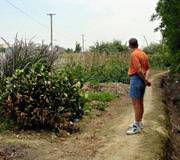 Evan cases the other plot of land.
The grandaughter was happy to see everyone. She was most surprised to see all the foreigners. She called John and Evan "wie gua jen" which means "people from foreign country". She was surprised to hear us speak English. She thought we should all speak Mandarin. Maybe she was right.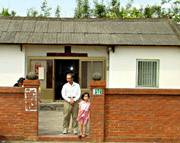 Shao Ping's grandfather and his grandaughter.