John Larkin is an educator with an international profile due to his innovative application of 21st century technologies within education both in Australia and overseas. He has a rich experience in the development and application of educational technologies in primary, secondary, tertiary and corporate educational fields.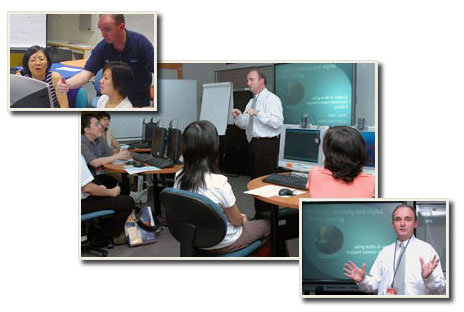 He maintains his leading edge in this field as a result of his constant research, collaborations with educators worldwide and close association with other leaders in the field. John has created and managed a significant number of web-based and multimedia education projects. His skill set is enriched with a keen eye for design and a practical approach towards instructional technologies.
In addition to teaching History John regularly gives presentations and conducts professional development workshops for academics, teachers and trainers located in Australia and overseas in the areas of 21st century instructional technologies, eLearning course design, curriculum integration and related pedagogies. John has also taught at both undergraduate and postgraduate levels in the field of educational technology at the University of Wollongong, NSW and also at the National Institute of Education, Singapore.
Diligent and responsible, John is able to create and execute projects and programmes to meet organisational needs. He is an enthusiastic and thorough educator and team member, able to convey information with clarity, patience and the terminology appropriate to specific audiences. A quick and insightful learner John is able to absorb new material and processes with ease.
Please review my current curriculum vitae and complete workshop listings 1993 ~ 2011.
Education
Master of Education Degree (1993 – 1994) (part-time) Conversion from Graduate Certificate in History Education. Major: Information Technology in Education Faculty of Education, University of Wollongong.
Diploma in Education (1980) History/English Method. Faculty of Education University of Wollongong.
Bachelor of Arts (1977 – 1979) Major: History and English Literature. Faculty of Arts. Minor: Biology, Faculty of Science. Minor: History and Philosophy of Science, Faculty of Arts. University of Wollongong.
Additional non-award tertiary studies also undertaken in Computing Science, Ancient History and Philosophy (University of Wollongong).
Web Presence