BBC Learning English: Lower Intermediate Course
http://www.bbc.co.uk/learningenglish/english/course/lower-intermediate/unit-1/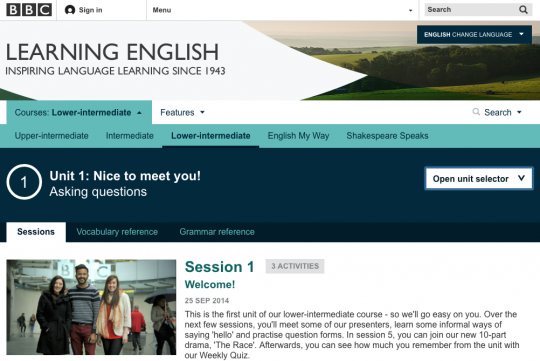 Target group
This specific course is targeted at students with English language skills at the lower-intermediate level (B1 of the Council of Europe scale). The learners should be capable of both understanding and communicating straightforward information regarding familiar situations in everyday contexts. This course is part of the much larger BBC Learning English resource.
Overview
This course is divided into thirty units each with five brief learning sessions. Each session incorporates rich professionally produced media (video, audio and text) to teach the content and stimulate the students. Transcripts, grammar and vocabulary guides accompany each unit. Media files can be downloaded. Each unit concludes with a session devoted to a weekly drama that evolves during the course.

Exploring the course is easy via the unit, session and activity based navigation options in addition to the clear instructions. The learner can complete the units, sessions and activities sequentially or via a specific topic basis. The interactive activities and quizzes in each session are intuitive and easy to complete. Some of the activities, however, are quite basic. Each session can be completed within a short time, say fifteen minutes.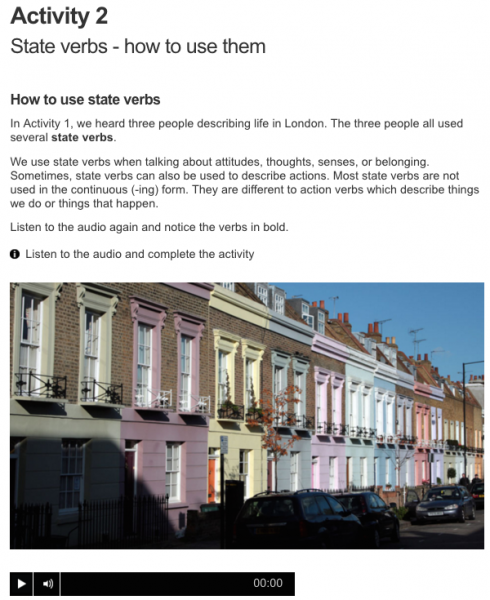 Authentic scenarios are used to deliver the content. Unit 25, for example, deals with "State verbs and action verbs". The knowledge and skills are shared via real world events that deal with living arrangements, living in a city, shared accommodation and flatmates.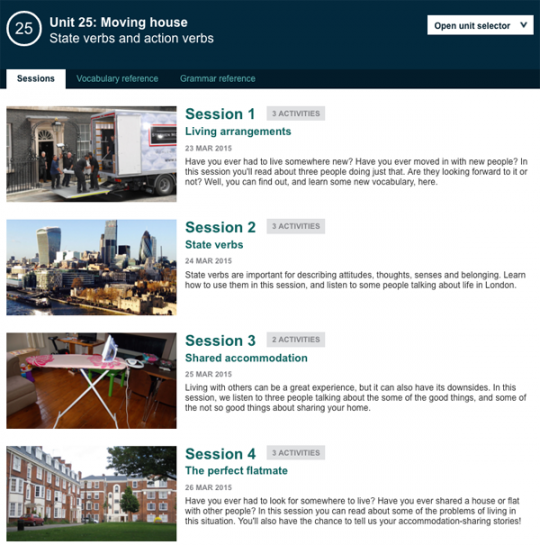 Lesson Idea: Exploring state verbs and action verbs
Objective: Support and reinforce knowledge and understanding of verbs and their usage. This lesson could be conducted over several classes (4 x 45 minute lessons)
Prior: The students have already learnt and demonstrated the application of verbs in the English language by completing relevant activities in a text such as English Vocabulary in Use Pre-Intermediate and Intermediate, Chapter 14.
Activity: This activity could be conducted across two lessons
Teacher verifies prior knowledge with students via discussion, questions and other formative strategies
The students are directed to "Unit 25 State verbs and action verbs"
The students complete Sessions 1 to 4 individually or in pairs.
The students may be required to wear headphones if noise is an issue
The students and the teacher discuss and analyse their performance afterwards and review any issues that arose
Students create their own short media presentations (video, audio or text) that teach the same concepts. The presentations are shared via the web or a local network and completed by other members of the class.