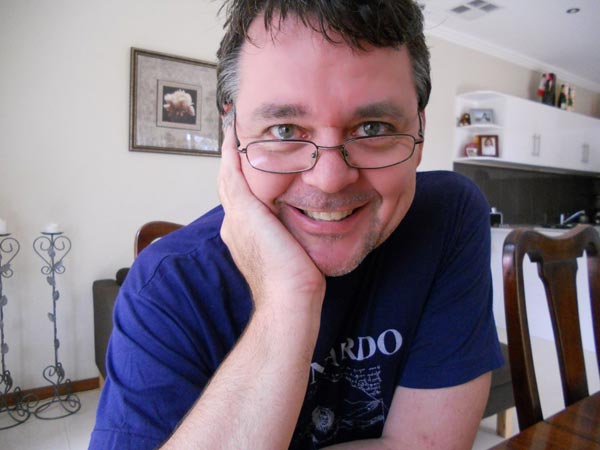 Good evening ladies and gentleman. John here, and, as you may be aware Friday is upon us and the weekend looms. Here I sit, glass of wine in one hand, Cuban cigar in the other and only God knows how I am managing to type this introduction with both hands so pleasantly occupied. The help has just brought me some hors d'oeuvres and I am struggling with the problem of deciding which aperitif to initially consume.
Dear, oh dear! I stray from the matter at hand. It is indeed Friday and this week's Friday Follow guest is waiting in the wings for the chance to saunter on to the stage, take the comfortable seat across from yours truly and set the world on fire. This week it is the indefatigable Chris Betcher. A man of many talents, an insatiable curiosity and a multitude of ideas… Over to you Chris…
Please share a little about yourself with the readers.
Hello readers. Nice to meet you. My name's Chris and I teach at PLC Sydney, an independent girls school in Sydney's inner west. It's a nice place to work. My role there is ICT Integrator – a funny title I know,- but I describe my job as working with teachers and students to help them use digital technologies to make learning more fun, more engaging and more interesting.
I've always been fascinated by technology, by the future, by creativity, and one of the reasons I love what I do so much is that it puts me right in the intersection of those things every single day. Working with future generations, helping them makes sense of the world around them and helping them to be better equipped to make a difference in it… what could be more rewarding?
On a personal level, I was born and bred in beautiful Sydney Australia. I'm innately curious and I like lots of different stuff.
Describe the role played by social media in education.
Social Media is a funny term. It's a bit of a buzzword, but to me it simply describes a set of technologies that help people connect with each other. However, at the heart of it all, it's important to remember that it's still about people connecting with each other, and it's not about the technologies. For people who enjoy connecting with other people, the tools of the social web have really supercharged their ability to make connections with others, to find people with similar viewpoints.
Social media's ability to tap into the zeitgeist of the crowd, to easily get insight into what large groups of people are currently thinking about, and to effortlessly transmit memes across time and space have fundamentally changed the way we think about the world, about our relationships with other people, and about ourselves.
If you accept that part of the purpose for education is to prepare students to participate more fully in the world in which they live and to help them shape the future of that world into a better place, I think the role of social media should be pretty obvious.
Tell me about your relationship with social media. How do you feel about social media?
There's that word again. It really is a buzzword isn't it? Perhaps the better question would be "Tell me about your relationship with your friends? How do you feel about your friends?" So maybe I'm just a sad, strange little man, but I have many friends – people that I know and care about and who know and care about me – through my online world and the social web. Maybe that sounds strange to you, but it's true. My life is so much richer because of the connections and opportunities that my participation in this seemingly virtual world has created. For a virtual world, it sure feels real to me.
The other big aspect of social media is that it gives ordinary people a voice. You no longer have to be a big corporation or own a daily newspaper to express an opinion or influence a process. A single person with a free blog can create enormous disruption to the status quo. Anyone who can access a computer can publish their views to the world in almost any media format at virtually no cost. Ordinary people can have far reaching influence. The disintermediation and the power shift that social media has enabled is both disruptive and fundamental. It can, and has, toppled entire political systems and it's just getting started.
What do you feel are your strengths?
My intensely curious nature. My endless stream of questions about the world. My genuine desire to make things better than they were yesterday. I'd like to think that I am able to operate fairly well across a pretty broad range of areas. I'm a scientist and an engineer, an artist and a musician, a storyteller and an adventurer. Life is better when you live all of it. I think that no learning is wasted learning and there is a lesson in everything if only we look for it.
What advice do you like to share with people?
Be nice to other people. Take care of the planet. Always follow your passions. Never be afraid to stand up for what you believe in.
Are there any questions you would like to ask?
There are always more questions I could ask. And those questions would raise more questions, and those questions would raise… well, you get the idea.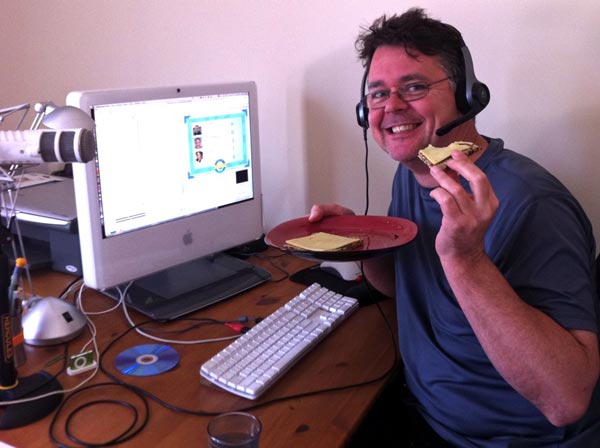 ---
Thanks Chris! I like the way you communicate and the way your thoughts flow from your mind through the ether to the page and to me and your readers. We should get together one day. I am a curious person as well. Very curious. Like yourself I like to explore new ideas and see how they can be transformed into something new, something inspirational, something worth exploring. Remember to engage with Chris via Twitter and to connect with his world and the world that surrounds us all.
Chris Betcher online :Betchablog ~ Education + Technology + Ideas
Chris on Twitter: @betchaboy
Chris on Flickr: betchaboy