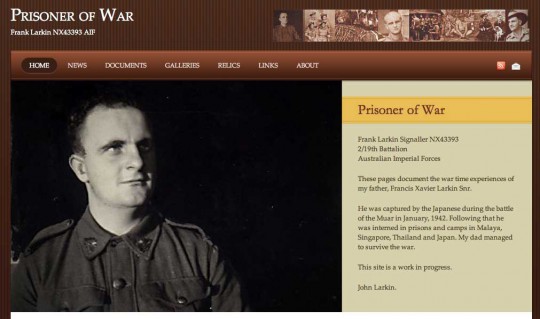 This weekend I rebuilt the web site I had created about my dad, Frank Larkin. He was a signaller in the 2/19th Battalion, 8th Division, AIF. My father was captured by the Japanese during the Battle of the Muar in January, 1942. He was incarcerated in Malaya, Singapore, Thailand and Japan. He was liberated in August, 1945. In 1993 my father shared a box of belongings that documented his time in the army. I realised that the materials were rich in history and should be shared. I decided that technology was the best way to share the material. Students of history could access the material without the material ever being lost or damaged. This web site is the latest incarnation of that shift to technology.
This web site had its origins in an Apple HyperCard stack created in 1993. This stack had comprised an assignment for a subject within the Information Technology programme of the Faculty of Education at the University of Wollongong. Dr John Hedberg, a talented and visionary educational technologist, had guided myself and other students of that cohort in the creation of the HyperCard stacks. Three screens from the HyperCard stack are illustrated below.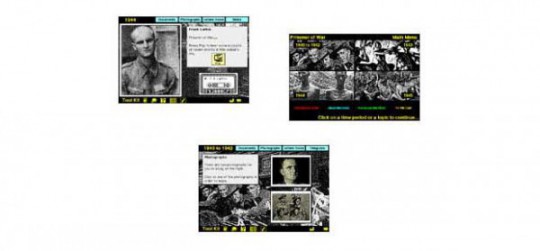 In 1998 the content that had formed the basis of the HyperCard stack was transferred to the Internet. That site underwent a major upgrade in 2006. This latest version (2011) incorporates additional photographs and documents that were obtained since the original HyperCard stack was created. Photographs taken in Singapore and Thailand during recent years are also included in the web site. Additional material will be added in the coming weeks and months.
I built the new site using WordPress. No more html. This will make updating the web site easy. No more code and no more Dreamweaver. I surprised myself at how quickly I was able to port the content from the old Dreamweaver site to the new WordPress site. I kept all the images on the server in their specific folders and used the excellent Add From Server WordPress plugin to gradually import the images and document scans into each section of the new web site. The most tedious part was adding an "alt" tag to each image. There are a few hundred of them. I like to make sure images have an "alt" tag for accessibility reasons.
In order to speed up the construction process I copied plug-ins and settings from this web site to the new POW web site. I am using an identical theme with a different skin. This morning I tidied up the web site and went live. In the coming weeks I will add additional narrative and hyperlinks, particularly within the letters.
I would like to thank the following twitterers for sharing the news this morning when the site went live and I announced it via Twitter:
Jabiz Raisdana http://twitter.com/#!/intrepidteacher
Jenny Luca http://twitter.com/#!/jennyluca
Margaret Simkin http://twitter.com/#!/margaretsimkin
Steve Madsen http://twitter.com/#!/smadsenau
Carmel Galvin http://twitter.com/#!/crgalvin @CarmelG
Geniaus http://twitter.com/#!/geniaus
Teck-Chung Leu http://twitter.com/#!/tcleu
Adrian Larkin http://twitter.com/#!/southboundtrain
One North Explorers http://twitter.com/#!/SGUrbEx
Adele Brice http://twitter.com/#!/adelebrice
Tim Lauer http://twitter.com/#!/timlauer
Adam Brice http://twitter.com/#!/adambrice
The amazing thing is that Adele Brice's grandfather, Charles Edwards, was with my father during that entire period as a prisoner of war. I shall be adding some stories to new web site that Charlie has shared with me in a letter some years back. Adele read Jenny Luca's retweet about my site and she made the connection via input from her husband. This is amazing. Adele and I connected and I could not help but think that her grandfather was Charles Edwards and almost at the same time it came together via Twitter. Her grandad and my dad both both had special jobs for the same prison boss in Japan in 1945 while they were in Ohamma prison. I shall go down to Melbourne too see Adele and her grandad.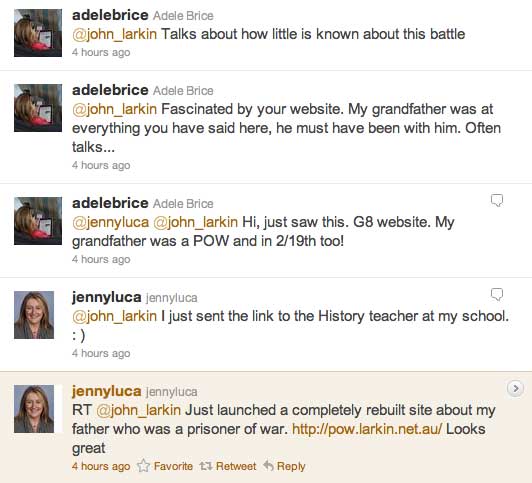 These connections are so valuable. Thank you all for your sharing. Hope you all find the site interesting and I look forward to reading your stories too. More to come.