I don't google that much these days.  There was a time when I was using Google, and before that Alta Vista, Yahoo, Metacrawler, and so on, and adding bookmarks quite often. Searching, scanning search results, browsing, bookmarking, blah, blah, blah.  Was probably using Netscape.
I hardly ever do that now.  Searching and bookmarking.  It is a waste of time.
I sometimes even think that maintaining bookmarks is a waste of time.  I still have bookmark archive files from the 1990s on a CD-ROM somewhere.  I wonder how many of those bookmarked sites are still extant?
I remember bookmarking web sites and putting them in bookmark folders.  Hundreds and hundreds of them.  I thought that was a way of "saving" them.  Not true.  Many of those sites are probably digital dust now.  Ephemeral.  Here one year, gone the next.  I am not going to dig in the Internet Archive looking for those deceased web sites.  I cannot help but think that my enthusiastic bookmarking of web sites in the 1990s was childlike in some respects as the Internet was so new if you get my drift.  I had to bookmark everything:  Volcano World, The Nine Planets, etc.  It was like I had to just collect them all, like toys from a cereal packet.
I have about 15 bookmarks in Safari now.  They are primarily links to web site log-ins and links for sharing bookmarks (Twitter, etc).
The primary way that I access the Internet is via RSS.  Sometimes known as Really Simple Syndication. Essentially the Internet comes to me.  I do not have to go out looking for it.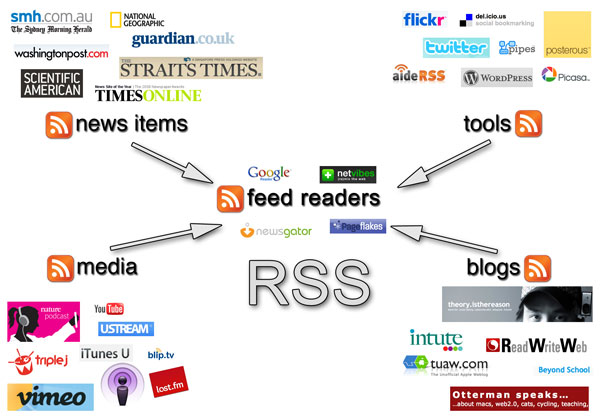 What is RSS?
Well, that is an interesting question.  This is a web based system or solution that allows information from a web site to be subscribed to by other persons.  It allows the data from that web site to be automatically 'pumped' out to subscribers of that web site.  The data is referred to as a feed or a channel.  The term 'feed' has been borrowed from the term 'news-feed' or 'live-feed' in the television industry.
RSS feeds can be obtained from many different online sources and web sites including:
News and information sources: The Times, Washington Post, Sydney Morning Herald…
Media outlets: ABC-TV, Radio stations, iTunesU…
Social networking tools: Twitter, Diigo, Flickr, Delicious…
Blogs: personal, educational and commercial blogs…
Feed filters: Yahoo Pipes, AideRSS, Dapper…
Google Alerts…
Subscribing to sites via RSS allows one to focus on the topics and subjects that they find interesting and purposeful. The Internet comes to you and not the other way around. Simply look for the RSS icon and subscribe to the RSS feed in your RSS feed reader of choice.
They are many to choose from:
There are many more. As well, most browsers will act as RSS news readers. Email clients such as Outlook, Entourage and Mail will also act as news readers as well.
Look for a RSS feed icon. Some examples are shown below. Click on the icon and subscribe using your preferred RSS feed reader.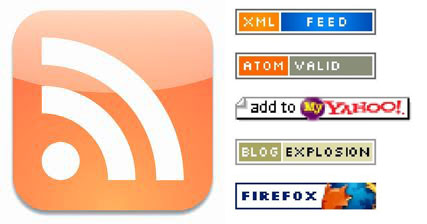 Initially I used Google Reader to read the various news feeds that I have subscribed to over the years. Google Reader is illustrated below.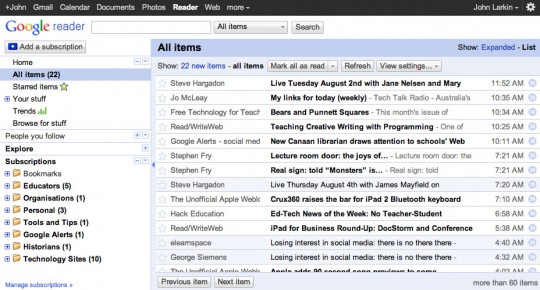 Google Reader
I still use Google Reader to manage and categorise the news feeds yet these days I utilise Reeder to browse, scan and read the news feeds. It is available for the Mac, iPad and iPhone. Reeder allows me to readily share and also email particularly interesting items with other people. Examples are shown below.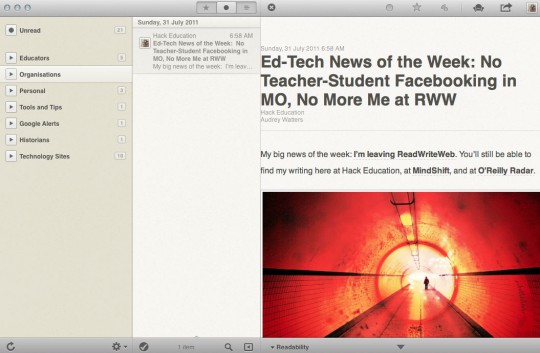 Reeder on the Mac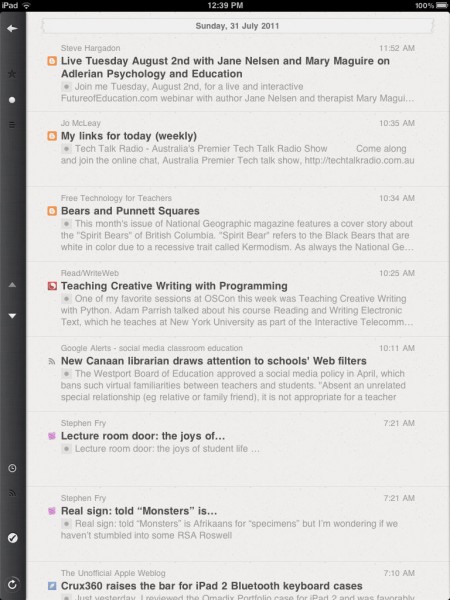 Reeder on the iPad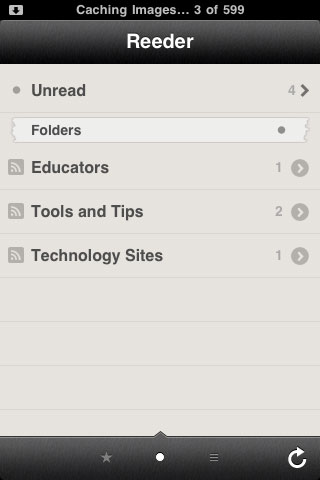 Reeder on the iPhone
There are some excellent resources on the Internet that can assist you to understand and take full advantage of RSS.
CommonCraft ~ RSS in Plain English
Sue Waters ~ Mobile Technology in TAFE Subscribing to Blogs and RSS feeds