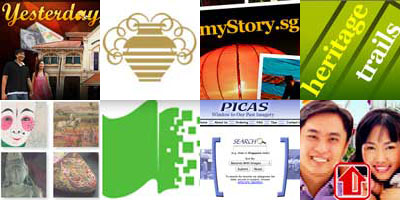 Singapore has a rich history and the aim of today's activity is for you to simply retell a story from your own or Singapore's past.
You could write a reflection regarding a photograph, share some kampong stories, sketch a scene from your past, or even write some poetry. It is up to you how you share your memories of Singapore.
I have collated a number of online sites to assist you with your project.

---

Yesterday.sg
This web site is rich in memories of Singapore. Over the years many contributors have shared stories, photographs and relics from Singapore's past. Explore the Categories of Hot Topics located in the sidebar on the right to help you in your search of useful resources. You may also like to explore the galleries of Yesterday.sg.
---

Picture Archives Singapore ~ PICAS ~ Windows to our Past History
This database hosted by the National Archives of Singapore contains a rich selection of images and photographs for you to explore. As the web site indicates there are two modes of search available. 'Simple Query' for a general search, and 'Specific Query' for a more precise search.
---

The National Archives of Singapore
As they indicate on their site, "The National Archives of Singapore (NAS) houses the collective memory of our nation. This memory allows current and future generations of Singaporeans to understand our different cultures, explore our common heritage and appreciate who we are and how we became a nation." You can explore Archives Online and the eCards.
---

National Heritage Board
The NHB has a number of online exhibitions and links to other sites that you may like to explore for ideas and supporting material for today's project.
---

Discover Singapore Heritage Trails
This site contains valuable information regarding historical sites from across Singapore. Review the information for the NHB Marked Trails, the Public Trails and Historic Sites for text based data that can be used to support your project. The site includes useful descriptions of each point on the particular trail.
---

SGCool: Singapore Collections Online
You can use the search engine of SGCool to search the collections of six of Singapore's museums.
---

myStory.sg
You might like to explore MyStory.sg for inspiration, images and ideas for your project. Explore the stories, photographs and the video gallery.
---

www.sg ~ Singapore at a glance ~ Our History
This site provides an overview of Singapore's history. It is text based in the main yet the articles also include some photographs.
---

HDB Info Web ~ HDB Towns, Your Home
The HDB site has information relating to the history of the HDB and facts about the HDB Towns.
---