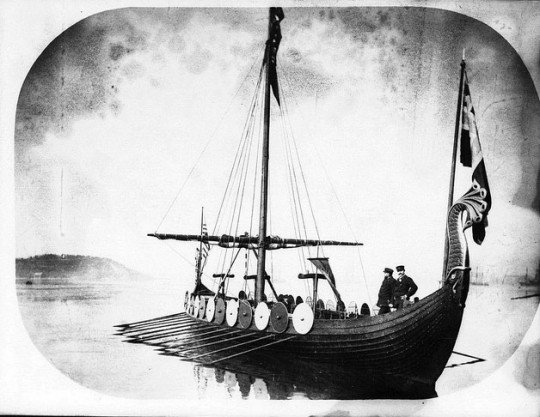 Reproduction of a Viking Longship by the Australian National Maritime Museum on The Commons.
This photo has no known copyright restrictions.
Recently updated the web links for the Vikings topic on the dedicated Year Eight History web page. The sites vary in quality however they can act as an entry point for the exploration and study of Viking history and culture. The Viking Denmark site has a series of worthy Viking archaeology articles that cover areas such as burials, runes, ships and fortresses. The Rosala Viking Centre has a rich array of galleries and illustrations. Good old Wikipedia had a useful set of links at the foot of its dedicated Vikings page as well.
You can explore all the links here…
The Vikings
Viking Denmark ~ articles, resources, images & history
Viking Life
Viking.net ~ articles, images & history
The Vikings ~ PBS Nova Support Site
History & Legacy of the Vikings
The Viking Culture
Viking Quest ~ Game
The Vikings ~ BBC ~ Resources and Facts
Viking Food 800-1100AD
Health, Grooming, and Medicine in the Viking Age
The Vikings ~ Activity Sheets
The Vikings ~ raiders, traders, travellers & everyday life
Wikipedia ~ Vikings
The Vikings ~ Additional links on the Wikipedia entry
Rosala Viking Centre
History.com ~ Vikings ~ Resources, galleries & inter actives
History for kids ~ Vikings
VIKINGS Scripted Series Coming to History Channel