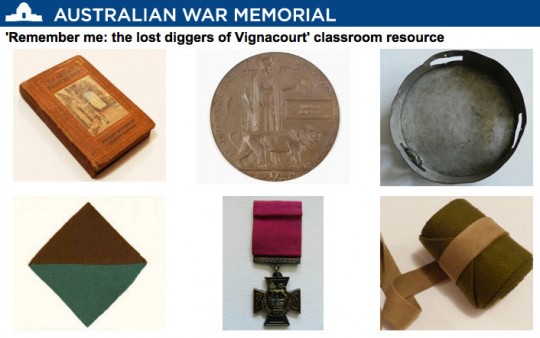 Year Nine History… browse on over to the Australian War Memorial's web site and in particular visit this specific web site: 'Remember me: the lost diggers of Vignacourt' classroom resource.
Choose one of the following historical artefacts or sources to explore:
Pictorial pocket New Testament
Next-of-kin plaque
Tambourine
19th Battalion colour patch
Victoria Cross
Puttee
Once you have selected the artefact or source read the information and then answer the questions for that particular source. Use the links that follow some of the activities to obtain further information.
Record your answers and incorporate suitable images using Pages or Microsoft Word… try using a template.
The title of the document should be based on the source or artefact that you chose
Include your name and class on the document
Include a map that shows the location of Vignacourt
Include the question with your answer
Add graphics and photographs to support your answer.
Two A4 pages in length
Save you work to a thumb drive, or, email it to yourself. Please send your completed activity to Mr Larkin via his school email address.