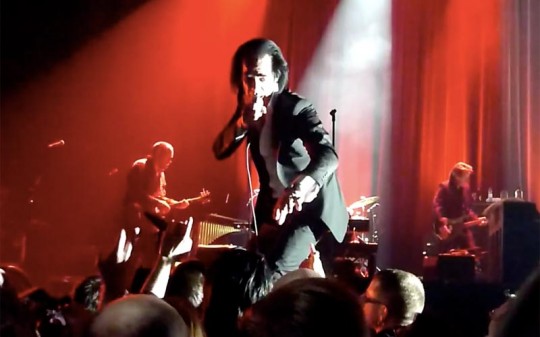 Nick Cave and the Bad Seeds recently toured Australia and I only wish I had made the time to see their performabce at the Sydney Opera House. My wife and I saw Nick Cave and the Bad Seeds perform at the State Theatre in Sydney back in November 1997 and it was easily one of the best shows I have ever attended.
Nick Cave is a charismatic performer. You cannot take your eyes off him. He lurches and lunges around the stage as if possessed. The Bad Seeds are easily the coolest band in the world.
I have been searching YouTube for clips from his 2013 tour and a number of excellent items have surfaced. One in particular…
A member of the audience at the Nick Cave gig at the Metropolis in Quebec, Canada on the 22nd March, 2013, recorded the entire show on a decent camera. It is HQ video at 720 resolution. The person that taped the performance was only a metre or so from the edge of the stage and as such captures Cave's emotional and intense interaction with the audience from go to woe. You just have to watch. Simply gape at From Her To Eternity that commences at the 26.00 mark. Then be shattered by the performance of Stagger Lee at 1.17.50. Cave's integration with the audience is beyond words.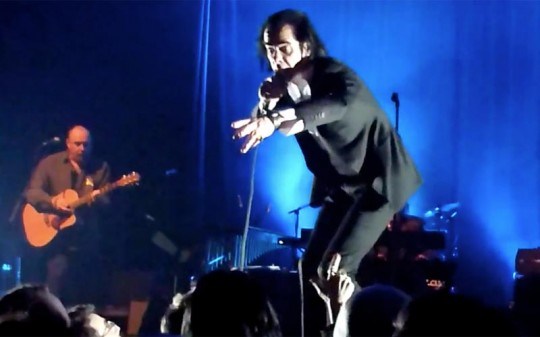 There is also an excellent FM audience recording of an entire show broadcast from the Berlin Admiralspalast in April in 2013 in two parts: Part One and Part Two.
There are a numerous other gems as well:
The audience video at the Metropolis in Quebec I feel captures the moment best. In many ways it is far better than a professional production with their endless cuts and transitions.
This is a raw video from the best possible perspective: among the audience, at the front, with Cave, in arm's reach.
In addition to the YouTube video footage NPR music has hosted the entire live show recorded at SXSW in Austin, Texas in April. They have added some video highlights as well.
The following images are all screen captures from the audience video recording at the show at the Metropolis in Quebec.