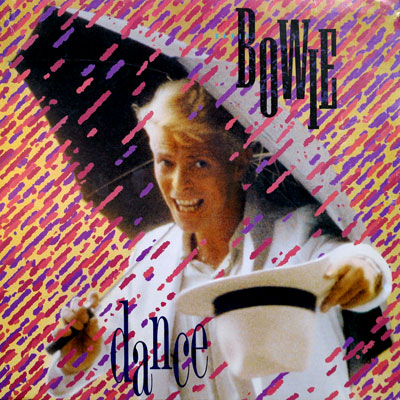 Back in November 1985 David Bowie's record company, EMI, had planned to release a compilation album featuring dance remixes from a couple of Bowie's recent albums. The name of the album was imaginatively titled Dance [EMI ST-17175]. Each track on the proposed release was to receive additional production and mixing by Rusty Garner and Paul Sabu. The track listing was as follows:
Loving The Alien
Let's Dance
Shake It
Blue Jean
China Girl
Dancing With The Big Boys
Modern Love
However, the album was withdrawn from EMI's release schedule and it did not come to pass. No vinyl or CDs were pressed. A number of printer proofs for the sleeve were created. One of these was recently auctioned on eBay. Before all the sleeves for the album were destroyed a few were salvaged and others were used as packaging material for other albums as delivered to retail outlets. These were subsequently passed on to fans.
The sleeve artwork is not that brilliant and it seems that EMI was attempting to recapture the hype that surrounded Bowie in 1983 at the time of his hit album Let's Dance and the Serious Moonlight Tour. Download a high resolution image of the sleeve.
Links:
BowieNet
Illustrated David Bowie discography
Bassman's Bowie Page