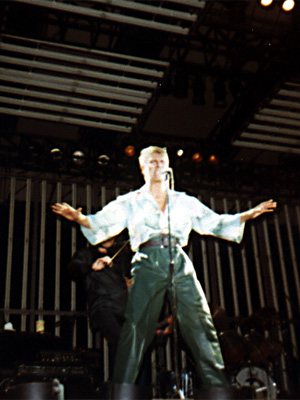 Recently I had been part of an online conversation regarding David Bowie's first concert tour of Australia back in 1978. Bootleg tapes of three of his shows are in circulation however live audience recordings of his performances in Brisbane, Perth and his final show in Sydney on the 25th November 1978 have eluded collectors. Where are they? Are they collecting dust somewhere? They do exist but we now wonder where are these tapes today?
I went to both of David Bowie's shows in Sydney that year. They were both excellent shows however the show on the 25th November 1978 was brilliant. It was the last show of his Australian tour and Bowie was in excellent form.
That Sydney show on the 25th was memorable. The encores were more spontaneous. Bowie and the band ended Rebel Rebel twice. Bowie thought that he and the band could do it better a second time around. He sang a few bars a cappella from "WIth A Little Help From My Friends" and he also sang a few lines from a beer commercial "I Feel Like A Tooheys". As the show concluded he grabbed anything he could from the stage and threw it out into the audience ~ towels, cups, etc. All of this is from memory.
I even went to Jands engineering in Sydney after the gigs and asked if anyone had taped the gig. They had done the lighting and sound for the Sydney shows. No one owned up to taping the show. Disappointment.
That 25th November show was so good that every Bowie show I have seen since has been something of a disappointment. I have been to 14 shows by Bowie in all. The others all seemed like a process after that 1978 show. Except for the 1987 Sydney Press Conference gig. That was good. There were about 150 people in the audience and Bowie and the band gave a great performance. Having the chance to speak to Bowie during that press conference was also quite good. Spoke to him on the phone once as well. Heard he was about to give an interview at 2MMM. I rang the station, asked if I could speak to him and they put me on hold, and when the interview started I actually asked the first question. It was a little nerve wracking actually.
I took some photographs of Bowie at both gigs in Sydney back in 1978. I used a Canon instamatic camera.