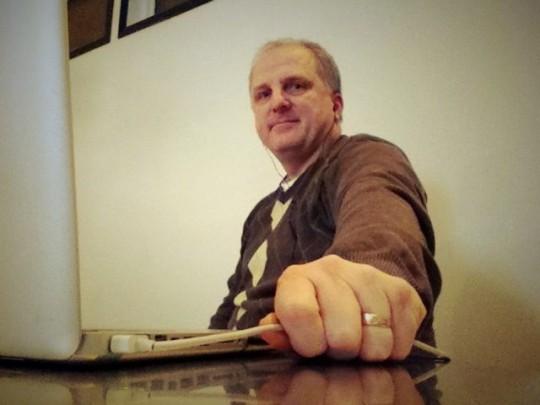 Welcome to the Friday Follow Twitter Interview and for many of my readers I hope that you are able to take a break during this holiday season. I was not even sure that I would be able to publish this blog post today as my site was experiencing 500 Server Errors however the bug has been fixed and all is good.
Yet again I have another inspiring educator to share their thoughts and experiences with you today. Today's special guest is Dean Shareski, an award wining educator who has been exploring how the read-write web and education technologies be suceessfully integrated into a teaching and learning environment. I always enjoy catching Dean's tweets online as he collaborates with other educators and shares news about his life, in particular his cooking. Dean is always friendly and he is also a helpful person. He is always happy to share. Let's hear from Dean…
1. Please share a little about yourself with the readers.
My name is Dean. I"m a husband, father of 4 and avid golfer. I work for a K-12 school district her in Saskatchewan, Canada as a Digital Learning Consultant where I support teachers and students in understanding and using technology in learning. I also teach pre-service teachers part time at the University of Regina. For the past 3 years I've been part of Powerful Learning Practice with Sheryl Nussbaum-Beach and Will Richardson building learning communities around the world. I've been fortunate enough to do some speaking and consulting in Canada and the United States. It sounds like I'm really busy, but I truly hate it when people talk about how busy they are.
2. Describe the role played by social media in education.
Social media is helping learners to connect. It represents the removal of walls, time and space from our learning. In many ways, its the catalyst that is changing the potential of education and school.
3. Tell me about your relationship with social media. How do you feel about social media?
I began blogging 6 years ago. We didn't call it social media back then but it was certainly a fore runner to what we see today. I fell in love with blogging as a way for me to learn out loud. It allowed me to connect with many people and build relationships both professionally and personally. Today I do have concerns about how many are seeing and using social media. Because it's so easy now, people can get sucked into using it solely as a way to "snack" on ideas. Blogging is for me a place where people can go deep. Whether you blog or are an active reader or commenter, social media has to be more than 140 characters or status updates on Facebook. That said, the potential and use of social media is enormous and there really isn't a right or wrong way to use it, I just have some bias about not using it well.
4. What do you feel are you strengths?
I think my strengths lie in my ability to stay true to myself in many contexts. I enjoy laughing and humor and include that in my professional and personal life. I believe that it's a powerful way to build trust and deep relationships. I also love storytelling. Digital media is a passion of mine. I've taken a photo a day for over 1,000 days and shoot and edit lots of video for lots of purposes. I've also come enjoy writing and these strengths merge and allow me to explore these passions a good deal of my day.
5. What advice do you like to share with people?
As it relates to teaching and learning,  I suggest two things. Reflect and Share. Reflection and attention to practice and ideas is the key to growth and development. This is something that should be done both individually but in this age of connectivity, a portion of that should be done in public I believe. Which is the sharing part. Sharing what you're learning, reading, thinking, etc allows you to continue that reflection in a more powerful way but also makes what you do more significant as you pass along ideas to others. As I've said before, sharing is a moral obligation as a teacher. Doing it online only makes sense and should be something all teachers do regularly.
6. Are there any questions you would like to ask?
When will someone invite me to Australia?
Thank you Dean! Well, I am not a gambling man however yesterday I bought a lottery ticket on the spur of the moment and if it wins I shall send you and your family sufficient tickets to all come down to Australia, not quite in the style of Oprah, yet a good time will be had by all. There are golf courses galore in my region. I am just a hack so you could teach me a great deal on the course Dean. My dad was a keen golfer. I have to visit Moose Jaw as well. Moose Jaw? Why Moose Jaw? That is an incredible name for a town.
Yes, I agree regarding sharing. The whole process of sharing benefits the other teachers in your network and also oneself. It allows one to stretch, to give and to grow. Connecting to the universe is a good thing as otherwise how will one know what is happening out there and how will the universe communicate back if you are not a part of that universe? The answer is out there.
Remember to check out Dean's sites and to subscribe to his blog:
Dean's blog: Ideas and Thoughts
Dean on Twitter: @shareski
Dean on Flickr: shareski's photostream
Dean on YouTube: Ideas and Thoughts ~ Shareski's Channel