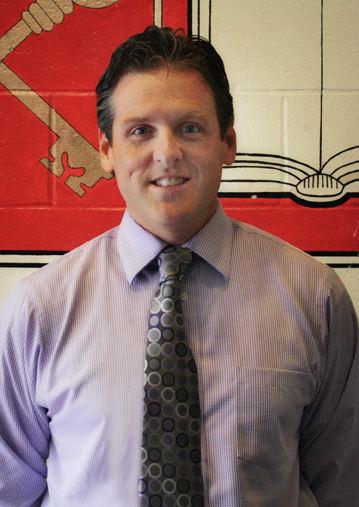 It is the end of the week and what a great weekend it is turning out to be! It is half way through the term and I am on a mini-break. Recharge the batteries. Time for the Friday Follow Twitter Interview and it is still Friday somewhere on the globe we call home.
This week our special guest is comng all the way from Burlington, Massachusetts. Our guest is Patrick Larkin, a distant relative I am sure! Patrick is a highly connected and the innovative Principal of Burlington High School in Massachusetts, USA. It is curious that Massachusetts is strictly speaking not a state and as a result Patrick and I have three things in common:
Our family name.
Our career.
We both live in a Commonwealth… namely the Commonwealth of Massachusetts and the Commonwealth of Australia.
Let's begin…
1. Please share a little about yourself with the readers.
I am currently in my fourth year as the Principal at Burlington High School in MA and my 14th year as a high school administrator.  Prior to administration, I was a high school English teacher. I feel blessed to have three wonderful children and to be working as an administrator in a community where there is a great deal of support for educators and students. I blog regularly on the Burlington High School Principal's Blog and am a proud contributor to the Connected Principals Blog. Finally, I love working with other educators who want to learn how to utilize social media to build a personal learning network (PLN).
2. Describe the role played by social media in education.
Personally, I think that social media is playing a very small role in education in most communities. While the number of administrators has grown dramatically in the last two years, I feel that we still have a lot of work to do to get school leaders to embrace social media as a powerful learning tool.
3. Tell me about your relationship with social media. How do you feel about social media?
My relationship with social media began three years ago when I started te Burlington High School Principal's Blog as a means to communicate information to parents and the community.  Over time, I began to add posts about educational topics to engage the community in conversations about different topics. Shortly after the start of my blog, I also began to utilize Twitter as a means of connecting and sharing resources with other educators. The combination of these two tools opened opportunities for guest blog posts, conference presentations, and personal connections with some amazing educators.
There is no doubt in my mind that Burlington High's move to becoming one of the first 1:1 schools in Massachusetts next fall when we distribute 1,100 ipads to our students is due to the support we received from members of my PLN.  We simply would not be doing this without the tremendous guidance I have received from my PLN.
For me social media has been the most meaningful learning tool in my life. I have learned more through social media than I have learned in any formal learning environment that I have ever been a part of.
4. What do you feel are you strengths?
One strength would be my ability to connect with amazing people who compensate for my weaknesses. I have always been a proponent of the idea of surrounding yourself with people who are smarter than you. So imagine being in a time where you can build a PLN and be surrounded by these types of people 24-7…I guess we don't really have to imagine it. In addition, I feel that as a leader I am good at putting people in positions that play to their strengths.
5. What advice do you like to share with people?
My advice for people is to embrace the power of social media and mobile learning tools. As school leaders, we need to encourage and model the constructive use of these tools for our staff and students. If we are in lockdown mode in our schools and denying access, then we are not fulfilling our primary mission which entails creating responsible citizens and lifelong learners.
6. Are there any questions you would like to ask?
I guess I have trouble understanding the negativity surrounding educators in our country. Why are American teachers vilified? I think the problem is the system and not the people that are working in it.  When will we stop the destructive conversations that keep us from the most important ones that will allow us to implement needed changes?
---
Thank you Patrick! I am most grateful for your participation today! It is interesting to meet up with other members of the Larkin diaspora far and wide! I would not mind coming across to be a part of your 1:1 iPad programme. Be most happy to conduct some workshops for you!
I think it is the system Patrick that leads to the vilification of teachers, particularly in western culture. It is also a symptom of the demise of dignity in aspects of or society. Other professionals are also vilified, rather sadly. It is not the same in all countries. I never experienced it when working in Asia. Curious.
Once again thank you Patrick! Readers, remember to follow Patrick on Twitter and to subscribe to his school blog, especially school principals who are not yet connected!
Patrick on Twitter: @bhsprincipal
Burlington High School Principal's Blog
Connected Principals Blog