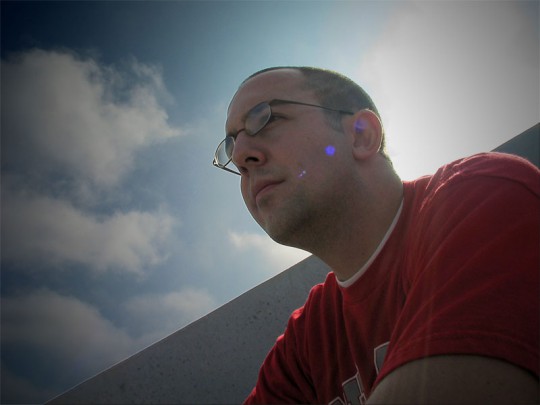 The weekend. The world is weird. Why do intelligent beings work 5 or more days out of 7 and rest for only 2 or less? At which point did the human race make the wrong decision? Visiting aliens would probably be shocked by the way we exist.
This week has been a busy one in my neck of the woods. Marking, marking, marking. I have not even written a post this week. Last night I arrived home after running an extra class with my senior students. Opened a parcel that contained a couple of record albums, vinyl that is, by David Bowie. For those of you interested one LP was a reissue of his first self titled album (1967) and the other was also a reissue, this time his second self-titled album (1969). Confusing that. Two different albums. Same artist. Same name. Had dinner. Fell asleep. Woke this morning. 8.00AM. Still Friday in the Americas and the western Pacific. I am glad the world is round and not flat. Perhaps it is flat.
Now, to more interesting matters. Time for the Friday Follow Twitter Interview. Yes! This week it is Scott Newcomb. I have been following Scott on Twitter for some time now. Like myself Scott is interested in mobile technologies and he frequently posts very useful tweets regarding the implementation of mobile technologies in the classroom. Scott and his colleagues have established an excellent web site rich with resources and materials for teachers exploring mobile tech.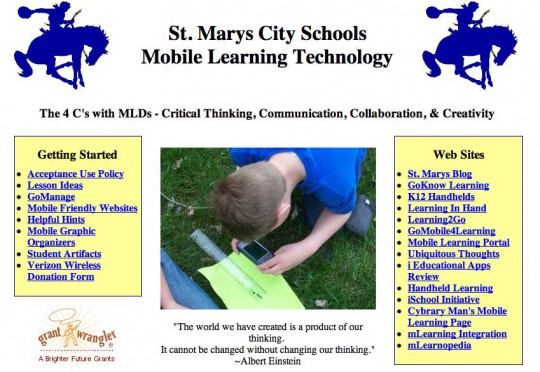 So without further delay let's begin with Scott's interview…
1. Please share a little about yourself with the readers.
I have taught for 10 years and work with 4th graders at St. Marys Intermediate School. This is a public school in its 3rd year of implementing mobile learning devices within the classroom. I helped organize and participated in the first Mobile Learning Technology Conference in Ohio in May of 2009. I have also helped with professional development training for staff members using smartphone computers. I have presented about Mobile Learning at the E-Tech Ohio Conference, Mobile Learning Technology Conference in Ohio 2009-2010, OSBA Conference, and the ISTE Conference in Denver, CO. I have also conducted webinars on the topic of mobile learning for Classroom 2.0 Live and EdTech Talk.
2. Describe the role played by social media in education.
I feel that social media currently plays a small role in education. Schools are slowly starting to make Facebook pages, and some educators are starting to see the value of Twitter. I feel as more and more educators share their findings on the value of social media and how it can be implemented it will become more main stream.
3. Tell me about your relationship with social media. How do you feel about social media?
Within the last year, social media has played an important role in my development as a teacher. I started using twitter last year. I quickly discovered how valuable my PLN can be. I am constantly learning and sharing ideas with educators from around the world. Last year, I presented at ISTE and I was able to connect with many of the educators that I have networked with through twitter.
By using social media, I have been able share my passion of mobile learning. I am able to share many resources with teachers and administrators. I am also able to research ways other schools are incorporating mobile devices into their districts.
4. What do you feel are you strengths?
I feel that my strengths are the ability to share and communicate with others. I feel as an educator it is extremely important to share ideas with others.
Through extensive research and hands-on experience, I have acquired a vast realm of knowledge centered around the usage of MLD's within the classroom setting. I have been a resource for other districts just diving into the MLD world. I enjoy coaching fellow educators on the benefits and opportunities of using mobile learning devices within the classroom.
5. What advice do you like to share with people?
My advice would be to embrace mobile devices in schools. I have discovered as an educator the value of using MLD's with my students. The students are more engaged in their learning and the unmotivated students have become motivated. At our school, we have "leveled the playing field" with mobiles. All the students have internet access, word processing capabilities and many apps. The students are excited about learning!
6. Are there any questions you would like to ask?
Why are so many schools against using mobiles in schools. These are the same types of devices that the students are using at home, and many schools are asking the students to "Power Down" when they enter the school building.
---
Thank you Scott! I agree with your regarding the attitude of schools towards mobile devices. My view is to allow mobile device use and provide education, education and more education regarding the productive and practical use of such devices within schools and the community. One realises that misuse and cyber-bullying are issues however I cannot help but feel that if mobile device use was more open, became the norm and no-one thought twice about it and then misuse would decrease. Issues of misuse would be "policed" by the wider school community and regulated by peers and teachers. It would become more socially unacceptable if you follow my line of thought.
Remember readers to follow Scott on Twitter and bookmark the St. Marys City Schools Mobile Learning Technology site.
Website: St. Marys City Schools Mobile Learning Technology
Twitter: @SNewco