Back in August 1998 the Illawarra region experienced an intense storm system. It was the 17th August 1998. The city centre of Wollongong received 316mm of rain in 24 hours. Nearby Mt Ousley received 445mm of rain during the same period.
A trough line that was part of an easterly from a strong blocking high southeast of Tasmania remained almost stationary over the region from just east of Sydney through to the Illawarra Escarpment. The rain fell and just continued to fell. Houses were damaged, creeks flooded and there were landslips along the escarpment. Some coalwash came down the escarpment from the old Kemira Colliery through the suburb of Keiraville down as far as Robson Road near the University of Wollongong.
The next morning I took photographs of the coal wash on Cassian Street, Harkness Avenue and Robson Road. The damage done to houses in the path of the coal wash was appalling.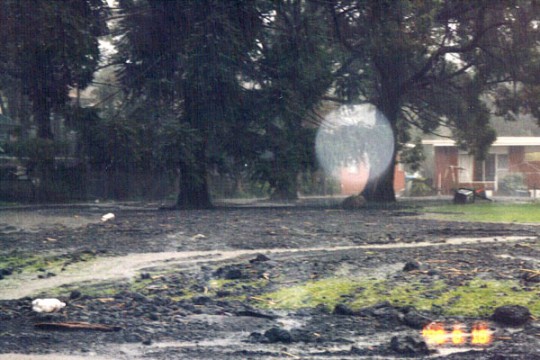 As well I took photographs of the beach at the mouth of Fairy Creek, just north of North Wollongong Beach. These photographs were taken on Saturday, 22nd August. Thousands of tonnes of rubbish had washed down the small creeks and were deposited on the beaches of the Illawarra. The rubbish included fences, drums, playground equipment, old cars, new cars, plastic bottles, toys, balls, kennels, trees, branches, pallets and so on. The beaches had also experienced significant amounts of erosion revealing previously unseen rock platforms.