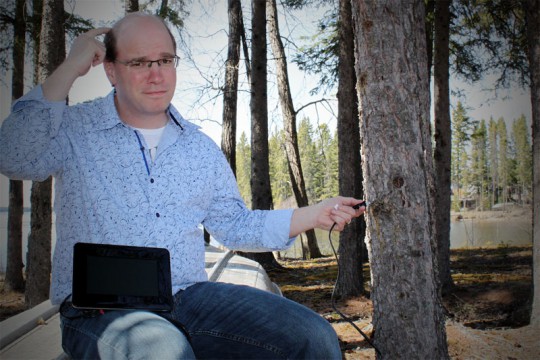 Last Friday of the mid year school vacation today. Shall return to the coalface on Monday. Teaching recommences on Tuesday. It will be good to catch up with the students. It was cold today, too cold. The last few days, however, have been good for photography.
During the break I kept up with the news feeds and crossed paths with a number of educators around the globe. At one point a blog post by this week's special guest on Friday Follow Twitter Interview, Clarence Fisher, @glassbeed*, caught my eye and I responded to Clarence's thoughts. Clarence admitted that he had acquired COMS, Cranky Old Man Syndrome, and being a sufferer as well, I thought I just had to respond. His post is most thoughtful and well worthy of your attention and input. I have always admired Clarence and his work in the field of education technology and I am honoured that Clarence has agreed to participate in Friday Follow Twitter Interview. *You may be wondering about 'glassbeed'. Let's begin…
1. Please share a little about yourself with the readers.
I am a grade seven and eight teacher in the small town of Snow Lake in north central Canada. My community has approximately 1 000 people in it. I have been teaching since 1993 and find it to be an ever changing profession. I love to read, travel and write. I spend as much time as possible on the lake in front of my house in my canoe. Last November I also became the mayor of Snow Lake.
2. Describe the role played by social media in education.
Living in a small place, social media can play a large role in education. We often can feel disconnected and away from world events living in a small, semi isolated community. Social media lets us be a part of things. It lets students learn that geography is irrelevant and that you can still be a creative individual who participates on the global stage living in a place like this. It makes connections possible when they simply weren't in the past.
3. Tell me about your relationship with social media. How do you feel about social media?
I am enthused, but careful about social media. Like I said in the previous question, social media can make us feel connected in a small town. It can help people to find communities that don't exist in a small town. In the same token, these days I have become more wary and careful of the marketing hype of social media. There are dozens of tools that are possible for us to use. New ones are created each day. I used to be quick to jump on board for things. I signed up for all the beta accounts I could get, tried things out, and left them behind when I found they didn't fit. I was often disappointed. I've learned over time to accept that some tools don't fit with my style of learning, researching and connecting. We all need to find the social media tools that work for us and our way of doing things, of connecting with others in the world.
4. What do you feel are you strengths?
My strengths revolve around my understanding of literacy and community. Literacy is an ever changing target these days. Schools and teachers have often felt that they "own" literacy and understand the proper way to teach it. I don't think it is possible that this is true any more. There are simply too many tools, too many platforms our there for students to experience. I also am a huge believer in the power of community in learning spaces. I've just finished building a wordpress multi user blog for my students for when our new school year opens in September. I've built this with buddypress installed on top of it so that students can have forums and discussions groups and wiki spaces built right in to their classroom space. I'm really excited about students having simple access to all of these tools when they need them.
5. What advice do you like to share with people?
My advice to people is simply to try things out. Mess things up, play, be creative. This is how you will find what tools and processes work for you. Don't buy the hype that companies try to sell you about their products for learning. Anything that promises "fast," "simple," or "easy" results; doesn't.
6. Are there any questions you would like to ask?
I constantly have a lot of questions about education and how we can help our students to be effective learners. These days I am wondering about the "shape" of literacy. How are companies and their products going to shape how we read and gather information? I am wondering about how information is spread between classrooms and learners? How do we help students to construct flexible and powerful connections and learning networks that last longer than a project? I think that networked learning gives us many more questions than answers simply since it is a new field and we have so much to learn.
---
Thank you Clarence and I agree that educators should give technology and tools a go by simply exploring, messing around by being creative. Technology is forgiving these days and it is okay to learn by tinkering and making mistakes. Focus on a tool or too that clicks and do not get caught up in the hype.
Remember readers, if you have already not done so please subscribe to Clarence's blog, Remote Access and subscribe to his Twitter feed. You can explore other areas of Clarence's online presence here.
Clarence writing online: Remote Access
Clarence on the Twitter streams: @glassbeed