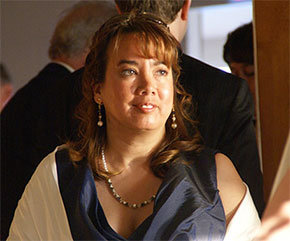 Friday is here and what seems will be a rainy weekend beckons. I have been working on a new web site for Year Nine History using WordPress. Hope to finish it this weekend. Stay tuned. Half way through term three. Five weeks to go till the end of term.
And… it is time for Friday Follow Twitter Interview and this week's special guest Michelle Tona has an interesting teaching position as well… Engineering and Technology Teacher. An interesting title and a teaching job I think I would like to experience. I am quite curious about the exact curriculum and subject matter for that teaching role.
Michelle has a keen interest in computing technology, science, and mathematics, and like myself Michelle is also a devotee of the Mac. Michelle and I connected via Twitter, certainly one of the most useful networking tools for educators across the globe, and Michelle kindly responded to my calls for guests for Friday Follow Twitter Interview and I appreciate the time Michelle devoted to this project. Thank you! Let's begin…
1. Please share a little about yourself with the readers.
I'm an elementary Engineering and Technology Teacher at a public elementary school in Bradenton, Florida (USA). This is my first year teaching elementary engineering, and I am very excited to be able to be teaching this highly engaging subject. Last year I taught technology at a special area class, and had an engineering enrichment club after school. I am also the tech contact for my school, and oddly enough, my staff comes to me with questions of all things technical and electrical.
I'm a fairly new teacher, but not new to the teaching profession. I've spent the better part of my life in children's education in one form or another, but decided about seven years ago that I needed to make it official. So off to school, again, I went – this time graduating with my bachelors degree at the age of forty with three children not too far behind me in that department. My path in education began as a teenager when I volunteered to be a summer camp coaching assistant, and has taken me in and out of preschools and daycares. The last ten years of my career, before becoming a teacher, I spent working in my school district as a teacher aide/paraprofessional, working fulltime in an elementary school by day, and going to school by night, while trying to raise three children.
My passion for science started as a young girl with dreams of being a doctor. I dropped out of pre-med when I first entered college many, many years ago after trying on each one of the science majors. Who knew then that I would become science teacher?!
2. Describe the role played by social media in education.
I think social media in education has opened the doors to a whole new way of networking and learning. Resources are now made readily available, and students are able to learn from other students or professionals from around the globe like never before. Students can interact with other students, or professionals in the field from their own classroom – in real time, without having to wait on the mail to deliver penpal letters from overseas.
3. Tell me about your relationship with social media. How do you feel about social media?
I have been intimately involved with social media in one form or another ever since I've had a computer, which has been at least 16 years, maybe more. At first it was just chatting in AOL member rooms, and instant messaging with friends and family members. As I became more comfortable with chatting online, I ventured more into chatrooms, moving from AOL, ICQ, IRQ, to Yahoo chatrooms. And ever since I've been actively involved with chatting online, I've been involved with learning and sharing, even offering technical support through chats and in forums, and some computer screen sharing sites, such as Crossloop and Bomgar.
Blogging is relatively new to me. I've only been blogging for the last couple of years, but have become more active with my blogs within the last four or five months. The same goes with Twitter. I have learned so much and grown so much over this past summer through my constant involvement with/on Twitter. (One might say its an addiction. Well, okay, I think there are many who might say its an addiction – and have tried to enact an intervention!)
4. What do you feel are you strengths?
I feel one of my strengths is my never ending thirst for knowledge, and my ability to share this new found knowledge with others. (Sometimes, whether they are interested in hearing about it or not. 🙂 At school I'm affectionately known as the "nerd that can't stop learning". Another strength is my creative and artistic abilities on the computer. (The computer is a creative outlet for all my learning.)
5.  What advice do you like to share with people?
My advice for people is to never stop learning, and never stop trying to learn. As well as question everything. When you always ask questions, you are always needing to answer these questions and this leads to more learning. Another piece of advice I give people, my staff in particular, is to not be afraid to push buttons and see what happens. (Also another very important step in the learning process.) When I don't know the answer to something, I search for it until I find the answer or someone who can answer my question.
6. Are there any questions you would like to ask?
There are a couple of questions I like to ask my students, and they are related. What is it you would like to learn more about? And, how can you best accomplish your goal of learning about this subject?

---
Thank you Michelle! I agree with you regarding the quest to learn. I believe learning keeps one young, preserves an alert brain and strengthens the mind. Yes, push those buttons and explore the possibilities. Making mistakes is not an issue either. It is how one learns. Remember readers to add Michelle to your
Twitter
stream and to check out her web sites…
Michelle on Twitter: @sonicgeekette
Michelle's blog: Tech Talk from Tona's Tidings
Michelle's web site: Tona's Tidings: Math ~ Science ~ Technology