The Archive Series ~ Originally published May 1st 2000
There was cause for celebration in Singapore today. John and Shao Ping finally decided to do something about their clothes. They bought a washing machine.
People in Singapore had been tired of putting up with the rancid stink that emanated from John and Shao Ping as they went off to work and outings wearing clothes that had not been washed for weeks on end. John's socks had taken on a life of their own as they took to hanging out with seedy types down in the sewer of an evening.
It is an LG washing machine. It makes a nice electronic jingle sound as it proceeds from one cycle to the next. It was made in South Korea. John used to own a car made in South Korea. It was a Hyundai Excel.
There was some drama with the new washing machine. John had to make adjustments to the tap fitting so the water intake would not flood. He bought a phillips head screwdriver and a conventional screw driver for the job. He then screwed all the bits together following the advice he had learnt from Roy and HG on This Sporting Life over the years.They taught him everthing he knows about handling tools. John really misses his set of stilsons.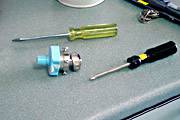 John and Shao Ping then had to discover why the water would not drain from the tub at the end of the wash cycle.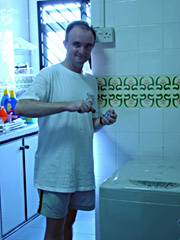 They discovered that there was insufficient water pressure if the waste hose was too high so they adjusted the hose and it now feeds directly into the waste on the kitchen floor.
The flat does not have a laundry per se. The washing machine is located in the kitchen. It does a real good job of washing the clothes. They come out smelling nice and Shao Ping takes great delight in hanging them out meticulously on the indoor clothes line near the kitchen window. The clothes dry quickly in Singapore. Clothes dryers are quite redundant in this environment. Many Singaporeans dry their clothes on bamboo poles situated outside their kitchen windows.
This post was originally published May 1st 2000 in the Pasir Ris Mercury.
---