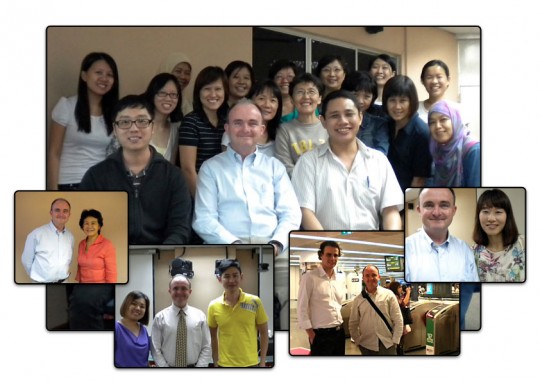 This week has seen another series of workshops in Singapore at the Centre for Excellence in Learning and Teaching at Nanyang Technological University. Topics covered included social media, digital storytelling and the iPad. The last of the three workshops, namely iPad in Education, can be a tricky beast. I have found that this workshop works best when the participants teach each other. My role is that of a facilitator and a troubleshooter combined with a tad of inspiration.
In the past the odd participant has arrived at the iPad workshop anticipating that I will purchase the apps on their behalf. That was an interesting conversation. Some have arrived at the workshop not due to choice. Their boss has directed that they attend. I once had a participant that was quite anti-iPad. Why they were in attendance is a mystery. These cases are the exception. Rare.
Ninety-nine percent of the time the participants are naturally excellent and iPad converts. I find that the workshop functions best when the participants are "on the stage", sharing their experiences and thoughts regarding the device. During the course of the workshop participants share notes on their favourite apps, the pros and cons of the device, lesson ideas and workshop projects. I assist with examples, ideas and the mechanics of working with the iPad: file transfer methods, storage, implementation scenarios and device management. The workshop consists of four discrete activities during which the participants work in pairs and groups prior to showcasing their thoughts and examples. The participants become the teachers and much more can be shared as a wide range of experiences, approaches and strategies are drawn upon by the group.
During the iPad workshops last week a number of teachers from Nanyang Girl's High attended together with participants from NTU, NIE, Taylor's University in Malaysia and other external participants. A special guest at the workshop was Mr Freek Olaf de Groot, Programme Leader M.Ed. in TESOL within the Faculty of Liberal Arts at the Asian University in Chonburi, Thailand. Freek was a oct welcome participant and a source of rich pedagogical knowledge regarding the role of mobile technologies in education. I took Freek on a quick tour of Singapore while he was here. Dr Ayusni Bahajjaj, Head of Technology, Research and Innovation at Taylor's University in Malaysia also attended the course. Dr Bahajjaj was a keen and highly motivated member of the workshop. Another participant in particular, Chris Tan of CommonTown, was a dynamic and inspirational member of the workshop. He shared a number of excellent ideas with the participants and provided us all with an sight into the types of apps being developed by CommonTown for the iPad.  A thoroughly good time was had by all present, myself included.