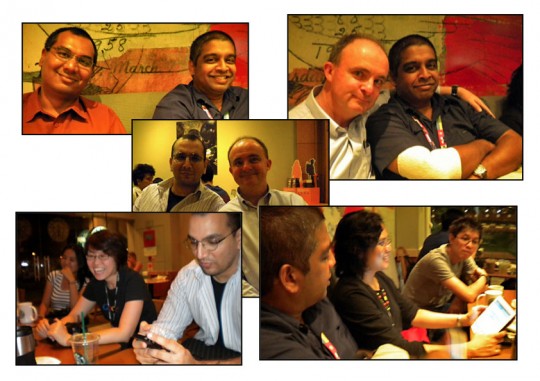 Stream of consciousness stuff here. Presently sitting in the Taipei Eating House. Trengannu Street. Chinatown. Singapore. 2011. I have been eating in this establishment on a regular basis since 1999.
Last night I met up with Siva, Airani, Kenneth, Anne, Ivor, Anand, Yu-Mei and Alvin. We had our Mac Meetup. We ate at Block 40 Holland Avenue and then walked around to Starbuck's in Holland Village. Excellent evening. Surprised Siva with my story of my Twitter bots. We shared notes re iPads, iPhones and other devices.
It is Saturday evening 8.35PM. Spent the first half of today with Kenneth. Then afternoon tea with Sabrina.
The Circle Line opened today. Impressive.
Cruised the new Circle Line line with Kenneth. It opened today, Saturday October 8th 2011. Took photographs. We visited the following stations: Kent Ridge, Stadium, Botanic Gardens and Holland Village. Explored. Photographed. Remembered. Debated. Questioned. Considered. Education. Technology. Pedagogy. You fill in the blanks.
Impressive. The new Circle Line is impressive. As is the entire MRT network in Singapore.
Public Transport Premier League: Singapore 1. Rest of the world: 0.
Took photographs. Canon SX20. Nikon Coolpix S220. Apple iPhone. As is my want.
Kenneth and I had breakfast in a hawker centre located in Holland Village. Lunch at Adam Road. Noodles. Lime juice. Chicken Biryani. Bandung Drink.
Met up with Sabrina as well today. She is a Senior Analyst Learning & Development with the Singaporean government and also an Apple Distinguished Educator. Sabrina had attended one of my workshops a couple of years back. We chatted about education, teaching, professional development, administration. Sabrina also kindly directed me to a store where I could purchase a cover for my iPad. Excellent company indeed.
Breakfast in Holland Village. Lunch at Adam Road. Afternoon Tea in Orchard Road. Dinner in Chinatown. Excellent company with Kenneth and Sabrina.
Life is good here.