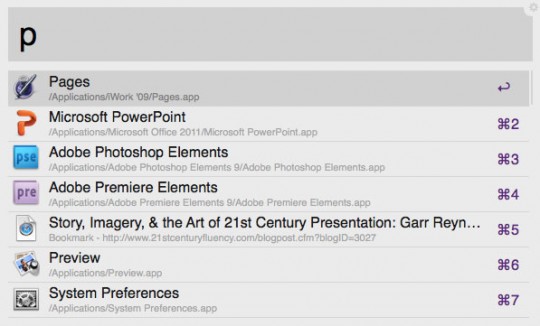 Have been using a productivity app called Alfred for the last week or so. It functions in a manner similar to Quicksilver and having read a review I thought I would give it a try. I downloaded the free version of the app and it is quite useful. A couple of keystrokes allows me launch an app, open a file, locate a file and, for example, launch a web site. There are a host of other features as well.
It is easy to launch and the fact that typing a single letter such as "p" can allow me to rapidly open Pages or Powerpoint is quite useful. There is a version of Alfred that is equipped with a "Powerpack" that provides more functionality however it requires an investment of £15-00. I shall continue to experiment with the free version Alfred before I make a further investment.
There is a detailed reviewof Alfred over at Arstechnica and it can be downloaded at the developer's site. It is also available on the Apple app store. Explore the gallery below for an insight into the rich array of preference settings and quick launching possibilities. If you are already a speed demon with the keyboard and you wish to extend your skill set further then check out Alfred.