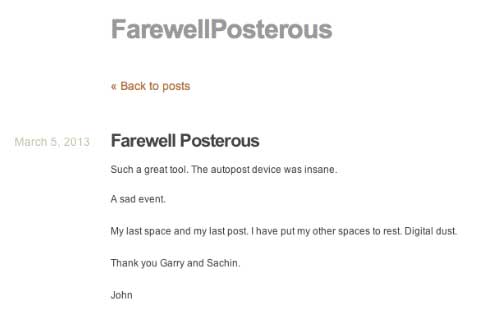 Posterous is shutting down. One of the better tools on the web. Simple, innovative, functional.
I guess it was bound to happen as it was purchased by Twitter just under 12 months back. One of its founders, Sachin Agarwal wrote on the Posterous blog back on February 15th…
Posterous launched in 2008. Our mission was to make it easier to share photos and connect with your social networks. Since joining Twitter almost one year ago, we've been able to continue that journey, building features to help you discover and share what's happening in the world – on an even larger scale.

On April 30th, we will turn off posterous.com and our mobile apps in order to focus 100% of our efforts on Twitter. This means that as of April 30, Posterous Spaces will no longer be available either to view or to edit.
It is a great pity. I have closed down my Posterous blog.
Garry Tan, one of the co-founders of Posterous is setting up Posthaven as a permanent replacement for Posterous.
Some useful links for those wishing to transfer their Posterous blog to another service:
Migrating your Posterous site to Edublogs
Importing from Posterous into WordPress