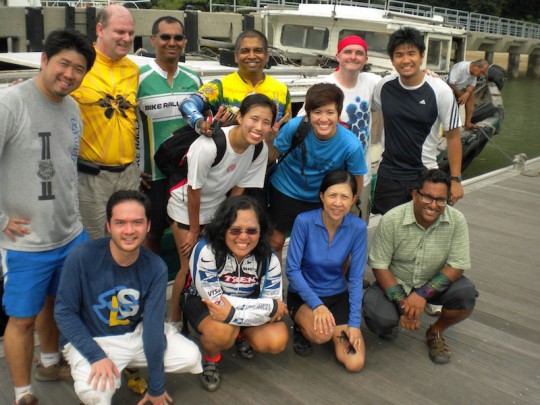 A couple of Sundays back I went for a bike ride with a group of friends in Johor, Malaysia. We rode from  Pengerang to Sungei Rengit. It was an early start for me. I was on campus at Nanyang Technological University and we were all departing for Malaysia, via a bumboat, at Changi Jetty. I took a taxi across Singapore to the Changi Village. I arrived early and had a quick breakfast at the Dil'B Restaurant at Changi Village. I had roti prata with egg plus some local coffee (kopi-c). Along for the ride were Sivasothi, Airani, Kenneth, Catherine, Thomas, Say Lin, Amanda, Meryl Theng, Dinesh, Kai Meng and myself. Collectively, they are known as the Zendogs. I went for a training ride, the day before, at Pulau Ubin.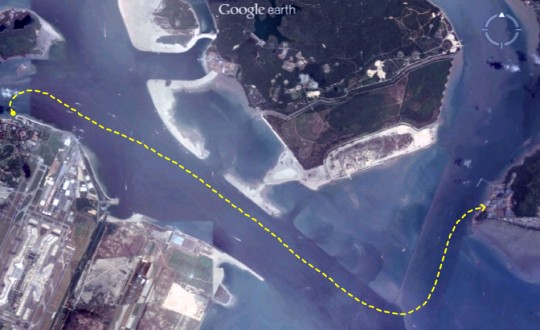 Boat journey from Changi Village, Singapore to Pengerang, Malaysia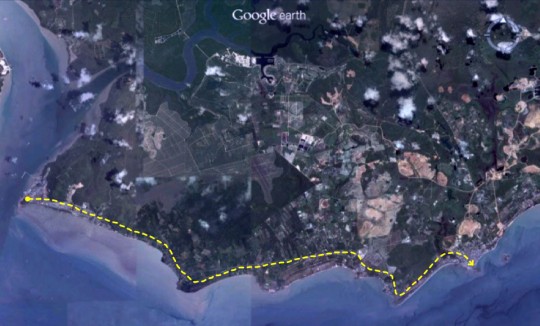 Bike journey from Pengerang to Rengit in Johor, Malaysia
After breakfast I hired a bike at Mr Bike's. My friend Airani had liaised with the proprietor of Mr. Bike's earlier to ensure that bikes would be ready for us at that early hour. My friends and other members of the riding team began to arrive from various points across Singapore. We made our way to Changi Jetty, passed through customs and walked our bikes down to the jetty to get on our hired bumboat. The boat ride from Changi Jetty to Pengerang would take about one hour. The bumboats of Singapore are an institution in themselves. We stacked our bikes on the boat and found a seat for a ride across to Malaysia.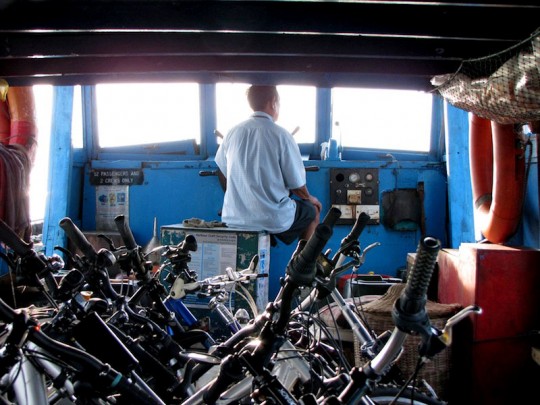 During the boat ride we passed by the island of Pulau Tekong, and various land reclamation projects. We eventually reached the new jetty and arrival facilities at Pusat Serenti Pengerang. Passing through customs too a moment and we began our ride. We did not take the main road between Pengerang to Sungai Rengit. Our guide Dinesh took us through the local kampongs that were located close to shore. This part of the ride is difficult to put into words. We rode through small kampongs, past the homes, gardens and local makan places. No rush, no traffic, no hustle, no bustle.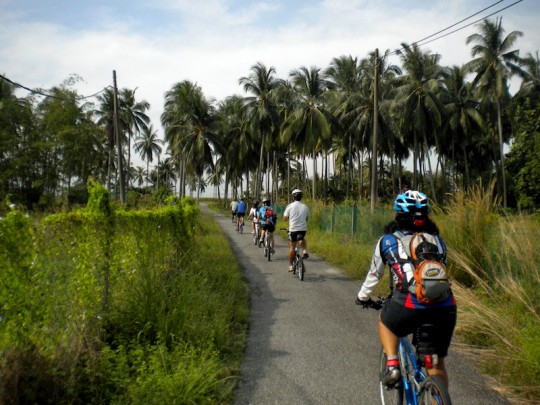 We stopped a couple of times to grab a drink and take a rest. It was hot and it was a little humid as well. Passing through tree shaded areas was always a relief. The bike ride was simply exceptional. Riding through the local kampongs was special. I shall do this ride again. The lunch was truly delightful and the two beers were most refreshing. The return journey was a challenge as my lack of fitness meant that I had to push quite hard to make it back to the jetty at Pengerang in time for the return boat journey. Kenneth encouraged me all the way. He was a source of great inspiration. The ride and my companions inspired me to buy a new bike.