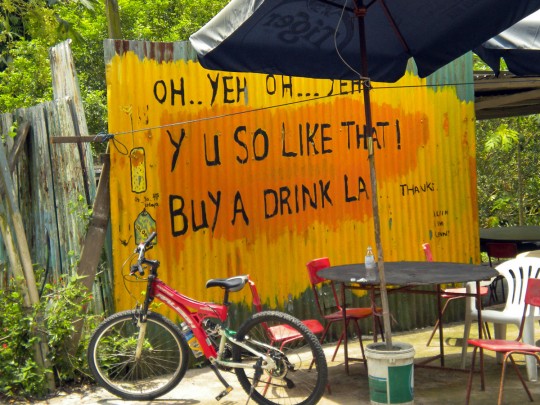 Went for a bike ride on Pulau Ubin today. It is an island located north east of the main island of Singapore. Took the 179 Bus to Pioneer MRT from my digs at NTU and sat out a journey on the East-West Line that took me from one end of Singapore to the other. Alighted at Tanah Merah MRT and took the number 2 Bus to Changi Village. The journey took me past Changi Prison where my dad had been incarcerated as a prisoner of war courtesy of the Imperial Japanese Army for a period of time in 1943.
I am putting up at Nanyang Technological University. As far as the island of Singapore is concerned NTU is ulu. Now, today's destination, Pulau Ubin, is also ulu. This term "ulu" means remote in Malay. There is a nice description on this page.
One of the first posts of my Pasir Ris Mercury journal in May 2000 featured photographs from my first visit to Pulau Ubin with my wife Shao Ping and best mate, Evan.
Anyway, I reached Changi Village and made my way to a seemingly new kopitiam/hawker centre and scored myself a fried prawn hokkien mee. It was excellent. Could have have consumed two of those dishes. Quick drink. Walked over to the Changi Jetty and jumped on a bumboat straight away. No waiting. Excellent. Not that you ever wait long for a bumboat in my experience. Cheap as chips too at $2.50SGD for the ride.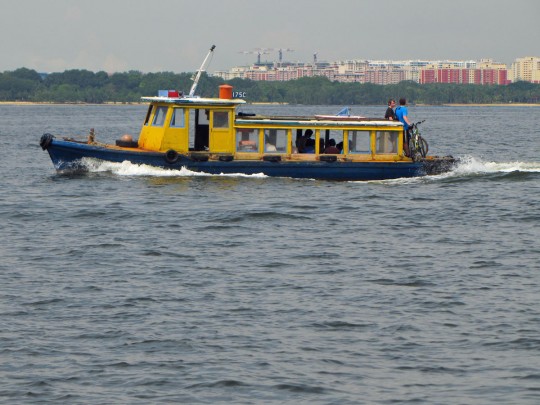 The boat ride was straightforward and I arrived at Pulau Ubin in no time. Hired a mountain bike for the day for $8-00SGD and a helmet for $2.00SGD. Excellent value. There are quite a few bike hire places on the island. I think the place would be a nightmare if all those bikes were on the roads of this small island as the same time. There would be limbs, spokes, chains, bike-handles and skin scattered all over the place.
I rode out to the west of the island and then across to the north. I must admit I was quite beat a couple of times and did not quite have the energy the last time I rode there with Kenneth. Need to get fit. There were not that many people on the island today. I spoke to a few groups during the road.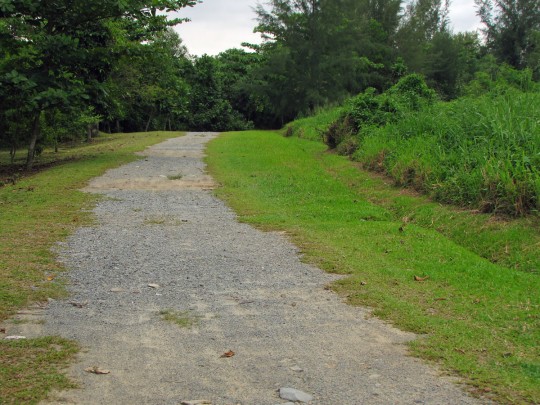 I have added a gallery below. What can you see? Bum-boats, the housing development blocks on the main Singapore island (probably the towns of Pasir Ris and Punggol), mangrove plants, pneumatophores, archer fish, stickleback fish, Malaysia, Changi Village, some of the bike tracks, approaching storms and my shadow. I took the photographs with my Canon SX20 and the little Nikon Coolpix S220. The gallery images are not in any particular order. Each image is labelled. Can you check them please Siva?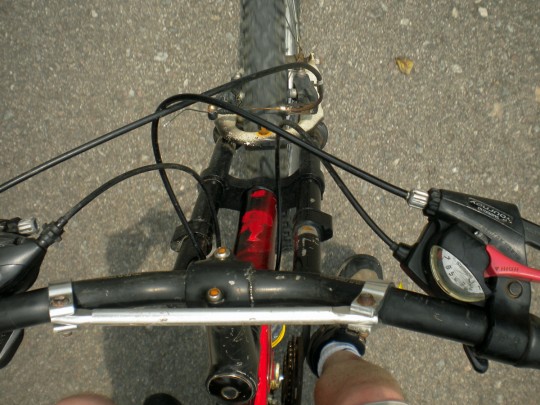 It was about midday and at some points my shadow almost disappeared under the bike as I rode along. I wonder on which day and hour one's shadow is at its smallest here in Singapore given its proximity to the equator? Was it Eratosthenes that determined the circumference of the earth using shadows at midday? When you walk about midday here your shadow can almost disappear if you get my drift. I am not sure how close Singapore's official midday is to its true geographical midday.
This ride was a practice run for the big ride tomorrow from Pengarang to Sg Rengit in Malaysia. How will I survive after that I wonder?